Talking SCHOP! Molded by Clay
Kysha Harris, Food Editor | @SCHOPgirl | 4/27/2017, 2:23 p.m.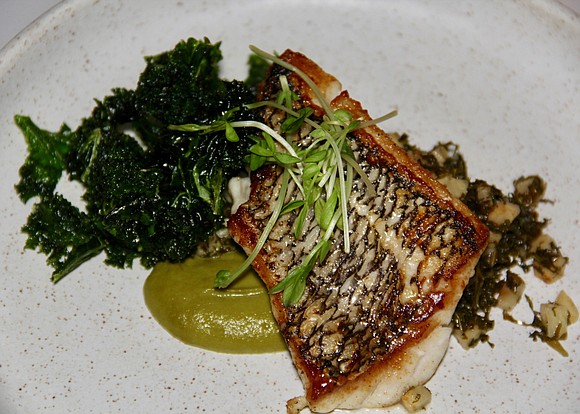 For all of you old school Harlem heads who knew of, patronized, loved and respected Perk's on the corner of 123rd street and Manhattan Avenue, the latest iteration will not disappoint. It is a modern homage to all of the souls who have crossed its threshold onto the terracotta (aka clay) floors.
The previous inhabitant of the Perk's location gave the neighborhood a Mexican bar for a hot moment, but thankfully a team of owners has now opened Clay (@ClayNYC, 553 Manhattan Ave., 212-729-1850, www.claynyc.com). They are serving locally sourced, seasonal, small-batch food and drink in a warm, modern unobtrusive environment.
Now before you get your nose out of joint about all the changes and the newcomers to Harlem, and all they are bringing, bar director Andrea Needell Matteliano, a resident of Harlem for almost 20 years, worked for Mr. Perkins back in the day. She has achieved a rare full-circle moment in life and does not take it lightly.
Watching the location return from a rowdy bar with a tattooed exterior to an understated restaurant with a simple one-word moniker just feels right. The simple white interior of Clay is highlighted by a white marble bar, wood elements and a lighting design smoothly transitioning patrons from daylight to low light.
With my cousin and friend in tow, I headed to Clay to see what chef Gustavo Lopez was serving. Of course, we started with some wine from their mostly European wine list, curated by sommelier Gabriela Davogustto, formally of Vinateria. My cousin and I got to relive our Grüner Veltliner moment from the Vineyard. Thank you.
We started our meal with olives ($6), roasted beets and hon shimeji mushrooms with pistachio and pea shoots ($14), chicken liver mousse with preserved fig and rye toast ($16), and a scallop special prepared in the Japanese yakitori style. The last was a standout along with the sweet, earthy and umami beet salad.
Our entrees were duck breast with celeriac puree, smoked farro and herbs ($31); wagyu strip steak, soubise (onion sauce), yuzu, hen of the woods mushrooms and chimichurri ($35); and, ultimately, my black bass with root salad and wild onion puree ($30). I say ultimately because of two pasta dishes previously missing the mark for me, but Matteliano appreciated the feedback and offered exemplary customer service, making sure I was happy with my dish—and I was. The fish was cooked perfectly and complemented well by the onion puree.
After dinner cocktails? Yes! Dessert? But of course! Let me tell you all about the rest of the evening at Clay on my blog at www.TalkingSCHOP.wordpress.com.
Welcome to the neighborhood Clay.
Happy eating and thanks for reading!
Kysha Harris is a food writer and editor, culinary producer, consultant and owner of SCHOP!, a personalized food service in NYC for more than 15 years. Follow her on Twitter and Instagram, @SCHOPgirl, on Facebook, /SCHOPnyc, and her blog, www.talkingSCHOP.wordpress.com. Questions? Comments? Requests? Feedback?  Invitations!  Email AmNewsFOOD at AmNewsFOOD@SCHOPnyc.com. Follow us on Instagram, Twitter and Facebook @NYAmNewsFOOD and tag us with #SoAmNewsFOOD with your food finds!