Chef Sahera Threats' sweet smell of success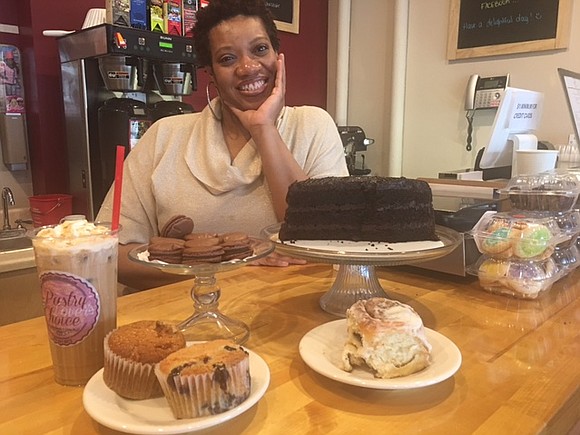 Pastry chef Sahera Threats made her dreams a reality nearly a year ago when she turned her passion into a business by opening Pastry Lover's Choice on Staten Island.
Her customers are treated to a variety of her culinary creations, including gourmet muffins, cookies, turnovers, cinnamon rolls and her signature carrot cake.
A resident of Staten Island since 2000, Threats is a native of Lefrak City, Queens. She said she always loved to cook but found that baked goods were more profitable.
"I've always cooked and I've always done functions," she said. "I was never much of a baker but I realized that I could sell a cake faster than a plate of food. I've always watched the Food Network, but I never considered myself a baker."
Threats originally went to culinary school for basic cooking, however. She went back later to complete a nine-month program in pastry arts.
"I started my training on my 35th birthday," she said. "Ten years later, here I am. I was amazed and I wish someone had told me about this option."
Starting her business out of her home, Threats turned her basement into a baking facility. While building a database of clients, she participated in community events, notably the Circle of Sisters Expo. The response was so great that it ignited the idea of opening up a shop on Staten Island.
"I looked at a location two years ago," she said. "The rent was doable but things didn't pan out. There is so much development going on in Staten Island near the ferry. I looked at the same location last year at the rent was the same."
She moved into the space, baking equipment and all, located in Stapleton, and opened the doors to Pastry Lover's Choice last June. Since then, the spot, selling coffee and espresso along with tasty baked goods, has become a morning routine for many Staten Islanders living on the North Shore.
"I really went into this head first," Threats said. "The learning curve is huge and I've been learning as I go along."
A mother of three sons, she added that part of her motivation for even starting her business is so she could leave a legacy for her children. However, she hasn't had a chance to step back and take a look at the success she's made thus far.
"It's really hard to see because I'm always in it," she said. "People congratulate me, but I haven't had the opportunity to really reflect on everything I've done. I want to leave something for my kids, and I just haven't had a moment to take it all in."
Along with running her business, Threats has also given back to her community. Some of her recent givebacks include donating cookies to an afterschool youth program and donating a cake to a community member's fundraiser with the help of City Council Member Debi Rose. Threats also holds workshops on pie making and cake baking.
Threats said that she would like to open a second location outside of Staten Island. She is currently preparing for a celebration event commemorating her first year in business in June.