Alliance of Families for Justice plan march to Albany
Isaac Monterose and Tyler Williams | 8/3/2017, 10:44 a.m.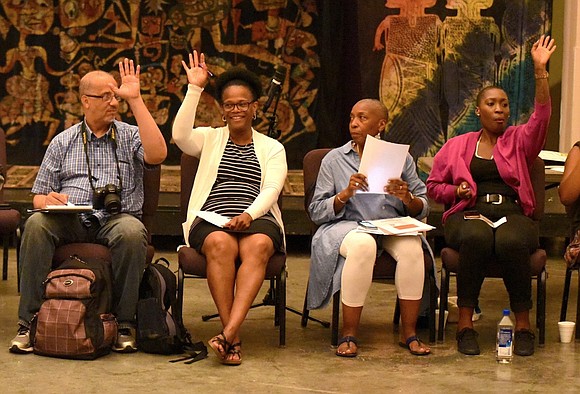 As the Alliance of Families for Justice approaches the upcoming date for the March for Justice on Aug. 26, three family members from the AFJ spoke with the Amsterdam News about their future participation and commitment for the March for Justice. The three family members preferred to remain anonymous for confidentiality purposes.
The March for Justice is a 19-day march that will travel from New York City to Albany. The participants can choose to walk part of the way or the entire route. For example, participants can choose to walk from New York City to Yonkers.
The Amsterdam News spoke with a daughter who has a mother and brother who are incarcerated for more than 10 years on separate bids. A second person is the spouse of a wife who is incarcerated for 17 years. A third person is the mother of a son incarcerated for 16 to 25 years.
The daughter said, "My personal view is this is a unique event, for several reasons. One being that it is an action that seeks to include the voices of incarcerated people whose human rights have been violated while serving their time. Second, the March for Justice provides opportunity and space for family members to raise their voices as well. When a person is sent to prison to serve time, their family members are served a bid as well."
Asked about what inspired her to join the March for Justice, the daughter replied, "I come to this work as a family member directly affected by the destruction of mass incarceration. My mother rotated in and out of the system for well over 20 years of my life.
Because of this, my body lingered in the foster care system, until I aged out at 21 years old. Her mother, my maternal grandmother, served time at Bedford Hills, when I was a child. My brother is currently serving time at a New York state prison, a 14 year bid."
The spouse said she is excited about the march. "My wife is in prison for 17 years," she said. "The prison has abused her with impunity." The spouse added that the incarcerated wife has been abused within the prison system while the system itself does not deal with any consequences.
The mother said her son was offered a plea deal of 16 to 25 years, but it was never formally documented. According to the mother, her son was "railroaded" in his trial. She said her son has been "a model prisoner," but he was moved to the "nastiest" cell block in the prison, where incarcerated people smoke K-2 marijuana, and pepper-spray is regularly sprayed.
"Right now, I'm trying to get the support that I need to gear myself up for the fight," she said.
According to the mother, the fumes affected her son's speech so much that he had to go to the prison's doctors.
She continued, "I just went to see him three weeks ago and to see him looking somewhat vulnerable. It's working on me right now…it's just awful. So I got to really work on with whoever I got to work with and if I need to do letters and petitions and whatever I need to do right now [then] I got to get all the support I can get to help my child in this particular situation."