Annual SOURCE360 to talk social justice, music, technology and leadership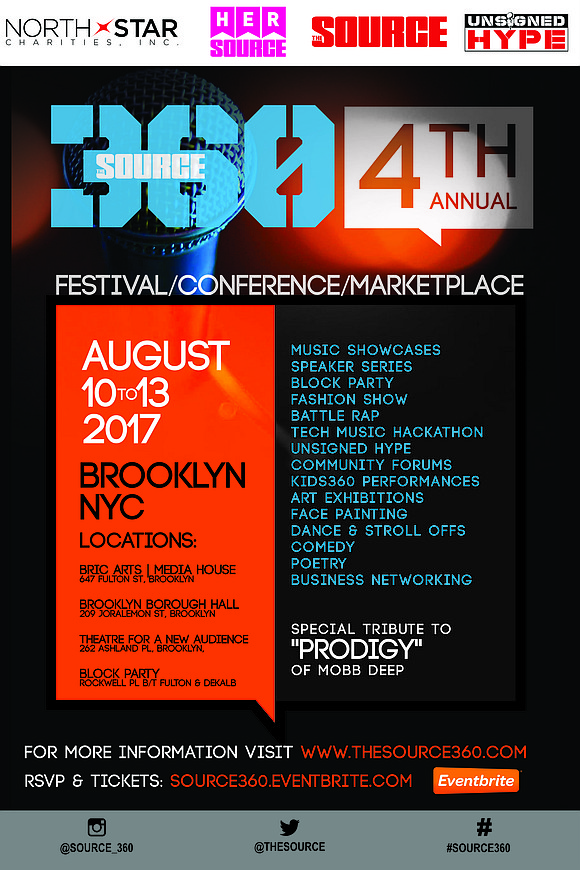 There's going to be a hip-hop/social justice takeover in Brooklyn next week as the fourth SOURCE360 Festival and Conference takes over several venues, Brooklyn blocks and street corners. Hip-hop artists, social justice, civil action, progressive politics and rap predictions and expectations panels are all a part of the extensive four-day program.
L. Londell McMillan, The Source magazine publisher, and SOURCE360 founder and CEO, told the Amsterdam News, "SOURCE360 celebrates the innovation and creativity inspired by hip-hop and represents Brooklyn's diverse cultural tapestry. I am pleased that SOURCE360 has grown into such an entertaining and educational festival and conference."
McMillan, a nationally renowned attorney and chairman of the NorthStar Group, continued, "This inter-generational experience offers so much to many who value the culture. Hip-hop is now the largest selling music art form, yet it's far more than even the music. Some think hip-hop has lost its way, but I say let's reclaim it to be part of the cultural and commercial solutions we need. We are asking everyone to come enjoy and be empowered."
From Thursday, Aug. 10, to Sunday, Aug. 13, 2017, at free and paid-for events, folk can see artists such as Charlemagne Tha God, Master P, Roxanne Shante, Lord Jamar, Elle Varner, Renee Neufville/Zhane, Mack Wilds and Drag-On.
Backed by an eager army of young people, McMillan's fourth annual SOURCE360 Festival and Conference is presented by NorthStar Charities and The Source magazine.
McMillan stated proudly, "Set for Thursday, Aug. 10, through Sunday, Aug. 13, in the exciting cultural center of downtown Brooklyn, SOURCE360 offers a full spectrum of activations designed to engage and educate the community with the latest in arts and culture, music, film and television, fashion, sports, business and digital technology."
Venues include BRIC Arts|Media House, Brooklyn Borough Hall and the Theatre for a New Audience.
McMillan told the Amsterdam News, "Throughout the week, the SOURCE360 Signature Concert Series will continue our tradition of honoring our past while celebrating our future. The series will feature musical performances by notable hip-hop legends and the hottest up-and-coming talent ready to create their own legacy. The highlight of this series is very special tribute to the late Prodigy of New York rap group Mobb Deep.
"SOURCE360 is focused on educating the youth and inspiring the community by presenting a number of pro-social activations and programs. Chief among them is the daylong SOURCE360 Tech Hackathon Thursday, Aug 10. Through a partnership with digital technology leader Blue1647, youth from grades 6 to 12 will get hands-on training in how hip-hop culture and web/mobile technology can be applied to creating innovative solutions to community issues."
The entertainment attorney, who has worked with the leading voices in music from JAY Z and Lil Kim to Michael Jackson and Prince, noted, "SOURCE360 is more than a festival and hub of creative performances. Education and thought leadership is essential to the mission, with a schedule of SOURCE360 Speaker Series panel discussions conducted by influencers and entrepreneurs in arts and culture, music, film and television, media, technology, sports and fashion."