Damon Young running the Whole Foods ship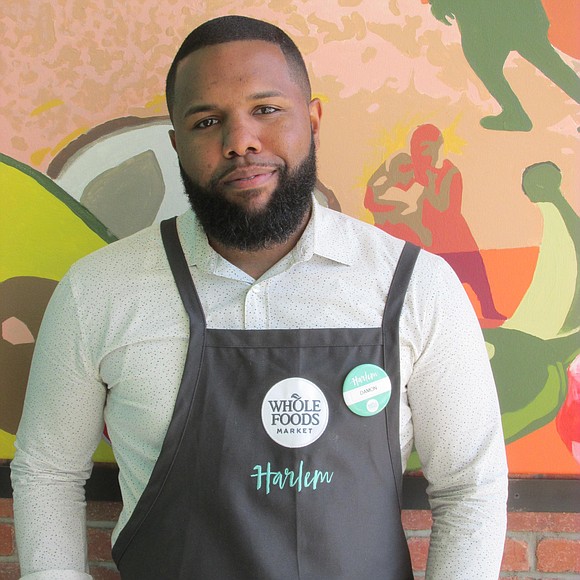 As buzz about Whole Foods Market's Harlem location continues, the man who's keeping the store running is getting the opportunity to reconnect with the community he says helped direct him to the path he's on.
Damon Young, 38, serves as store team leader of Whole Foods Market Harlem. He controls daily store operations, works with the regional team and manages the location's 250 employees.
Born in Atlanta, Young spent time in Harlem after his parents divorced. During his childhood, he dealt with the realities of his abusive and alcoholic father. When he and his mother left Atlanta to live with his grandfather on Long Island, Harlem was a place of solace.
"In the summertime, my mother would bring me to Harlem, and that was when Grant's Tomb was big and the street vendors were the real deal," he said. "It was really the epicenter of Black culture. When we came here, this was peace."
He was educated by his mother, who taught him about Harlem's culture and history. He recalls getting lessons about Strivers Row and Zora Neale Hurston.
"I always felt that Harlem gave to me at a young age, and I never knew I'd be coming back and giving back today," he said.
After graduating from the University of Pittsburgh with a degree in neuroscience, he decided to take his career into a different direction. He initially worked for Hillstone Restaurant Group on Long Island, supporting a team of 100 employees, including managers, shift leaders, administrative team and kitchen staff.
In 2007, he landed a position as a manager in training at Whole Foods. When he heard about the position, he thought it was right up his alley
He said, "When I saw the opportunity I said, 'Why not?' I like to eat, probably can sell some groceries. I know how to make a steak. I like cheese. I figured I could translate the leadership I had at the restaurant, knowledge I had from the restaurant, and I said let's give it go."
Young first work at the Whole Foods Manhasset, Long Island location in the company's Leadership in Training program. He moved over to New Jersey, working at the Paramus, Milburn. He got his first store team leader position in Montclair, where he returned the store to profitability. He was later transferred to Connecticut.
Transferred to New York, Young was team leader at Whole Foods Bowery, Union Square before coming to Harlem.
"I got the opportunity to come to Harlem and do what I love, which is be in a community that I feel represents me and has a special place in my heart," he said.
Young hopes that Whole Foods Market makes a positive impact on Harlem, in the community he believes will benefit from it in many ways.
"Whole Foods is selling great groceries in a community that wanted it," he said. "I walk up and down these same blocks and I don't think we need more sneaker stores, fast food places. I think we need more health education and a lot of difference components, not only for this community but for the society and this generation."