The Great Hill, Cornelia Street, Summerstage, Melvis live
Ron Scott | 8/3/2017, 11:42 a.m.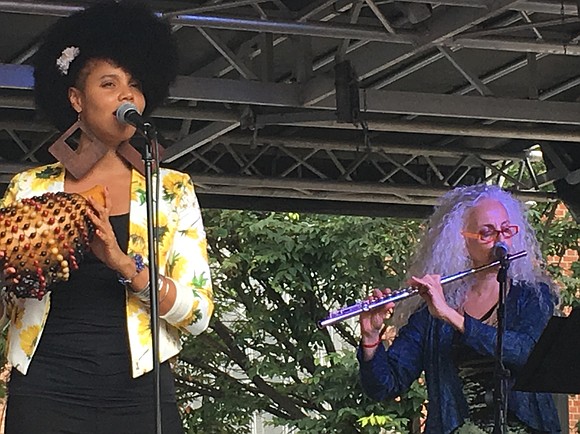 Jazzmobile's Summerjazz fest, Great Jazz on the Great Hill, in Central Park, Aug. 5, 4 p.m. to 7 p.m., is a rainbow jazz combustion.
The concert, with an annual list of performers that draw jazz fans from the tristate area, has become one of Manhattan's major mini-festivals. For a straight-ahead musical history of what the music is and continues to be, the renowned elder-statesman tenor saxophonist, composer, bandleader and educator Jimmy Heath will take the stage with his 14-piece swinging Big Band.
The National Endowment for the Arts Jazz Master will present jazz stretching back to the days when the music was synonymous with dancing acrobatics and not the sound of sshhhhh!
Adding to the rainbow of jazz and the culture of Black music is the smoky baritone singer Allan Harris. The native of Harlem, who comes from a Black bar jukebox experience, will lasso a repertoire from a western song or two to Nat King Cole and Billy Eckstine ballads and hard swing from the team of Duke Ellington and Billy Strayhorn.
The 16-year old pianist/organist and composer Matthew Whitaker will make his statement with an eclectic musical chest brimming over with everything from rockin' blues to out-right soul and jazzy rhythms, if that suits him in the moment.
He taught himself the Hammond B3 at the age of nine and later became the youngest artist endorsed by Hammond. His artistic resume is outstanding for any young musician; for a blind musician, it is even more impressive.
The memorable singer Alyson Williams, who earned her reputation by wading in the competitive ocean waves of R&B, will spike the Jazzmobile contingency with a slice of soul Aug. 9 (7 p.m.-8:30 p.m.) at the General Grant National Memorial (Grant's Tomb, 122nd Street and Riverside Drive).
As the daughter of a bandleader (trumpeter Bobby Booker) she might mingle on the periphery of jazz or drop a few blues tunes. Her many fans still remember the lyrics to her hit song "Just Call My Name," which is considered a cult classic that still gets airplay.
The trombonist, composer and conceptualist Craig S. Harris is a visionary who finds time to lead three different bands (Tailgaters Tales, Nation of Imagination and Slide Rule). Any musician who leads three bands and still has time for other projects has to be an inventive soul.
Aug. 11 Harris, whose explosive trombone sound swings from the frontline of a romping New Orleans band to avant-garde improvisational expressionism to those diversified rambles of 125th Street, delivers it all at Marcus Garvey Park (Fifth Avenue and 125th Street, 7 p.m.-9 p.m.).
The Cornelia Street Café/Underground (29 Cornelia ST.) is one of New York's under the radar jazz scenes. The jazz here moves from tame to a bold voiceful improvisational approach.
Aug. 3-5, the tenor saxophonist Tony Malaby will take the more unconventional road of improvisation playing near the avant garde pond. His associations with Charlie Haden's Liberation Music Orchestra and Paul Motian's electric Bebop Band give him such a license.