Kiss the Mooch goodbye
Herb Boyd | 8/3/2017, 10:38 a.m.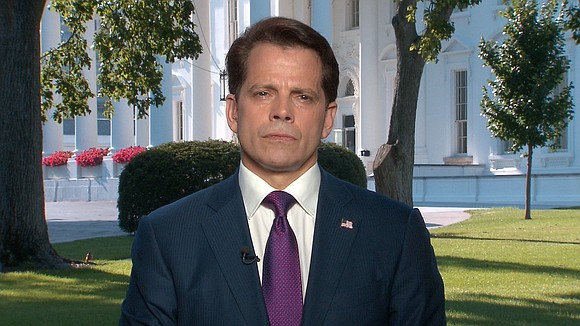 Anthony Scaramucci, the latest victim in the Trump administration, might be said to have tripped over the same tongue that for 10 days as communications director had given him a national platform. What the "Mooch"—a sobriquet he acquired almost immediately upon taking the assignment—failed was a basic lesson of politics: Never tell a reporter anything that might damage your job, even if it's off the record.
Moreover, his outburst of profanity and insult targeted other members of this ship of fools. "I made a mistake in trusting a reporter," Scaramucci said, and that has to be the understatement of the year.
His departure on the same day that retired Marine Corps General John Kelly arrived as the new chief of staff, replacing Reince Priebus, the man the Mooch forced out, was no coincidence. He was as good as gone despite all the love he expressed for Trump.
When the Mooch said he would report only to President Trump, the battle was joined between him and Kelly, the former head of Homeland Security, who came aboard to impose discipline and to adhere to the mission of the commander in chief.
Given Kelly's unfailing loyalty to his boss, he is the one administrator who may be safe from Trump's unpredictable, practically tyrannical behavior. In fact, on the issue of immigration, he has upped the ante on the arrests and deportation of illegal, undocumented immigrants.
Kelly has also expressed no compunctions about Trump's ban on certain Muslims from the Middle East.
The nation is still waiting to see how the president will deal with Tom Price, the head of Health and Human Services, after he promised to fire him if the repeal and replace bill was not passed, thereby removing Obamacare.
Well, Mr. Price should be trembling in his boots because it may take another seven years to make the Affordable Care Act a thing of the past.
Once again the chaos in the Trump administration, with or without a tweet, is headline news, and how any of this will affect Robert Mueller's probe of the Trump/Russian connection is another drama with no conclusion in sight.
A cursory glance at the list of folks who have come and suddenly left the Trump regime is unprecedented, particularly within such a short stretch of time. Sean Spicer, Mike Flynn and James Comey are the boldface names, but there are at least half dozen others who have felt the boot from the deal maker.
A betting journalist would be wise to place his stake on Tom Price as the next to get pink slipped by the orange-haired man.
Should that happen, Price should be relieved and glad to take his leave from a team with a captain who has passed no major legislation and intends on doing nothing but being an agent of madness and mayhem.