Ailey Extension Dance Classes: Release your inner dancer
Zita Allen | 8/10/2017, midnight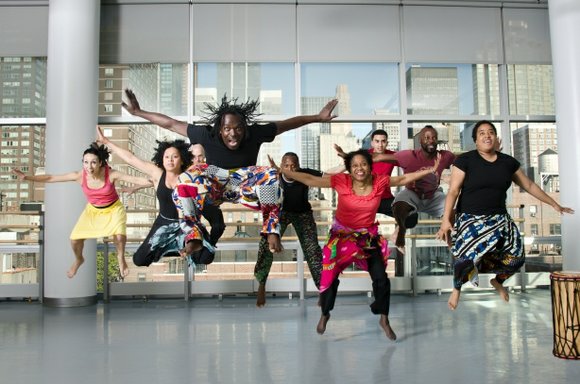 Have you ever sat in the audience at an Alvin Ailey American Dance Theater performance during the magnificent dance company's summer and winter seasons and thought wistfully, "I would love to try to do at least some of that!"
Well, nothing's impossible. The folks at the Alvin Ailey American Dance Theater want everyone to know that dance is not a spectator sport. Just as the world-renowned dance company's performances are open to anyone and everyone so, too, are classes offered at the company's midtown Manhattan headquarters at 55th Street and Ninth Avenue.
Inspired by the vision of the late Alvin Ailey, today the Ailey organization offers a range of programs and classes that include The Ailey School's pre-professional and professional training classes, the academic Ailey/Fordham BFA program and AileyCamp, among others. But, not to be forgotten is that unique movement oasis called the Ailey Extension that offers some 80 classes a week in more than 25 different dance and fitness techniques in the AAADT's spacious, sun-drenched studios. On the Ailey website the extension is described simply as "Real Classes for Real People."
Ailey, the magnanimous master of modern dance, believed it was his organization's mission to return dance to the very people who inspired it. At the Ailey Extension that means making all kinds of dance or fitness classes available to anyone from 16-years-old to 90-years-young who comes through the door. According to Ailey Extension Director Lisa Johnson-Willingham, "Our mission is to bring dance to the people and we believe that everybody has an inner dancer just dying to get out." To that end, the Ailey Extension serves up a smorgasbord of movement, dance and fitness classes for everyone from absolute beginners to more advanced movers and shakers of all shapes and sizes. All anyone has to do is register at the front desk in the lobby, shed street clothes in the bright, clean locker-lined dressing rooms (which has showers for those after-class sweats), slip on practice gear and dash off to the studio, prepared to move and be moved.
The hardest thing one has to do is choose from the extraordinary range of classes. There is Afro-Caribbean, ballet, contemporary, jazz/theater, capoeira, hip-hop, dance fitness/cardio, Pilates/stretch/ core, tap, salsa, samba/Afro-Brazilian, salsa, West African and yoga.
In Horton, the modern dance technique that bears the name of Alvin Ailey's late teacher and mentor, the codified exercises, isolations and movement patterns and progressions across the floor improve one's range of motion. Pilates and yoga classes gently increase flexibility, strengthen the core and extend the range of motion while releasing muscle tension. West African dance is a joy-filled, high-powered rhythmic experience accompanied by live drummers. Ballet classes evoke the beauty and grace of a Misty Copeland as adult students of all levels learn everything from absolute beginner to more advanced aspects of a technique that focuses on proper alignment, balance and flexibility. Tap, that familiar burst of rhythmic fireworks in which tap shoes turn the dance floor into a percussive instrument, recreates the magic of such masters as Gregory Hines, Honey Coles and other legends. Salsa, samba, Afro-Brazilian and a wealth of other dance forms teach students to move comfortably and confidently to Latin rhythms, transitioning into fundamental, sexy styles incorporating a unique approach to partner work with the help of masterful teachers and drummers.
Of course, as with any dance instruction, the teacher is the secret ingredient that makes the experience a success. Former Ailey dancer Sarita Allen (no relation) is a perfect example. In her "Ailey Barre" class, Allen attentively takes students through a series of movements that might begin with gentle breathing exercises designed to release tension as they lie on their backs balanced on a foam core roller. Then, standing at the ballet barre, she takes them through a series of plies, relieves, leg swings, bends and stretches. Now, they're ready to move to the center of the floor, where freer exercises might incorporate movements reminiscent of sections of Ailey masterpieces, such as "Revelations." All the while, even as Allen demonstrates movement she watches students, making gentle corrections, encouraging them to tailor movements to their capacity so that everyone gets the most out of the experience.
Like every good Ailey teacher, Allen says her mission is to give her class the sensation of doing Ailey dances by crafting movements that acknowledge students' varied levels of training while nudging them to the next level. "I like the idea of starting with some type of centering movement, especially at the end of their day," Allen said, "But then I like to close class with a bang."
That is the essence of the Ailey Extension experience in a nutshell.