Billionaires worked behind scenes in Kenya's recent polls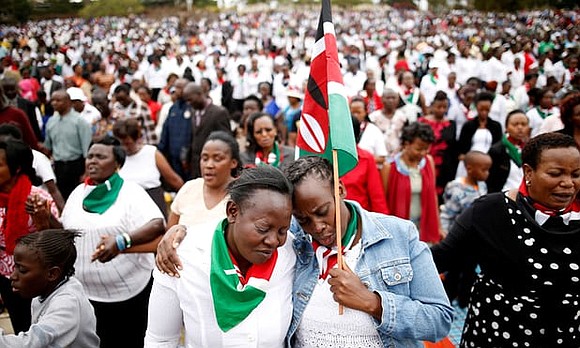 There was more than just voting in the presidential polls in Kenya this week. There were music jingles, dance videos, candidates doing the "dab" and "lipala" dances and a gospel number, "Mambo Yabadilika" ("Things Are Getting Better"). Even former President Obama made an appearance, urging Kenyans to remain nonviolent after the highly combustible exercise called national polls.
There were also buckets of money for incumbent Uhuru Kenyatta and for the leader of the opposition, Raila Odinga. Sixteen candidates in all were seeking high office.
In an article headlined "The billionaires behind Uhuru-Raila campaigns," Kenya's Standard newspaper exposed the outsized presence of people of great wealth, mostly working behind the scenes.
"In the president's corner are wealthy lawyers, bank owners, insurance magnates and billionaire businessmen known in the country's political and business circles," wrote Mwaniki Munuhe in an interview with the president's Friends of Jubilee Foundation.
A Kenyatta foundation trustee downplayed the role of the super-rich but acknowledged that a small handful of "money men" held significant fundraising roles. These included billionaire Mary Wambui Mungai, business guru John P.N. Sipa, business mogul Peter Muthoka and tycoon Pius Ngugi.
Munuhe observed, "These are powerful names in local business circles as they own companies or have a significant stake in major companies that trade at the Nairobi Securities Exchange."
Not to be outdone, Odinga's camp included publicity-shy billionaire Jimi Wanjigi, Mombasa Gov. Hassan Joho, whose family owns one of Kenya's largest clearing agencies, Nairobi Gov. Evans Kidero and former Kenya Ports boss Brown Ondego.
Musalia Mudavadi, the chair of Odinga's presidential campaign, waved away concerns that millionaires would make Odinga's NASA party beholden to tycoons if they manage to win the Aug. 8 poll.
"Our biggest financiers are the rank and file members of the coalition who can contribute as little as a few cents toward the campaign. We want to ensure that our campaigns are people-driven," said Mudavadi.
This year's election is estimated to be the second most expensive in the world. Up to $499 million has been allocated for the election, with $53 million going to election-related security operations.