The Giants' running game is an important work in progress
Jaime C. Harris | 8/10/2017, 9:54 a.m.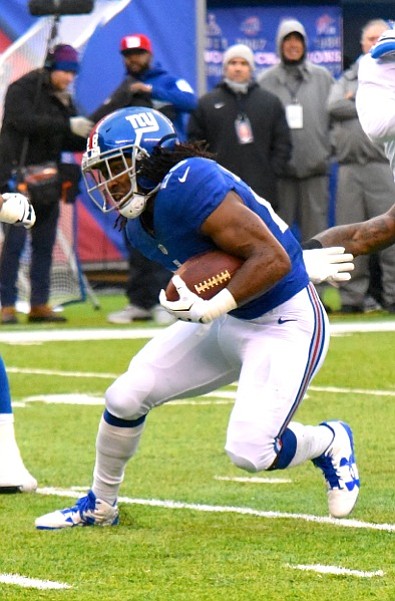 As the NFL has gradually moved from a run first league to a more wide-open, pass dominated game, running backs have become dramatically devalued. The position's diminishing role is reflected quantitatively in teams' salary structure.
Yesterday, Devonta Freeman of the Atlanta Falcons became the league's highest paid back, agreeing to a reported five-year extension for $41.25 million, with an annual average salary of $8.25 million. Comparatively, his quarterback, Matt Ryan, holds a five-year contract for $103.75 million.
Last season, the 11-5 Giants ranked 29th out of 32 teams, rushing for only 1,412 yards, an average of 88.4 per game. In contrast, the Atlanta Falcons and New England Patriots, who met in the Super Bowl, were fifth and seventh respectively. So as the Giants formulate their offense during training camp, building a competent running attack is a priority for second-year head coach Ben McAdoo.
It will take a combination of positions coalescing for the Giants to achieve considerable improvement, especially the offensive line, which was heavily criticized last season for its inadequate play. Thus far, McAdoo says he sees signs of the growth.
"I think the offensive line is developing confidence in each other," he said Tuesday when asked to assess the Giants' running game at this point. "The tight end group is improving and that helps. [Paul] Perkins is a young back who's grown, but we have some other young backs who aren't afraid to hit the hole. There's been some shots of the offense knocking a hole in the defense and that's encouraging."
McAdoo continued, "You have pads on now so it's easier to evaluate. You're not live tackling to the ground even though that happens on occasion…you get a chance to see the backs hit the hole. The holes open and close quickly in this league. You get to see who hesitates and who doesn't hesitate, who can read the blocks and who can't."
The return of veteran running back Shane Vereen could prove to be a cure for the Giants' rushing ills if he can stay on the field. Although Vereen excels at catching the ball more so than at running between the tackles, his potential overall production could mitigate a lack of yards gained on the ground by the Giants.
The 28-year-old former Patriot tore his triceps against Washington last Sept. 25 in Week 3, sat out the next nine games and in only his second game back Dec. 18 versus the Detroit Lions, re-injured his triceps and missed the rest of the season.
"I definitely want to get back in the rhythm of things," Vereen said Monday. "The speed of the game, kind of just getting my feet wet with that. I've been doing this for a while, and the start of preseason is just about getting ready to go."