Liberty score hard fought win in Garden return
Lois Elfman | 8/10/2017, 9:37 a.m.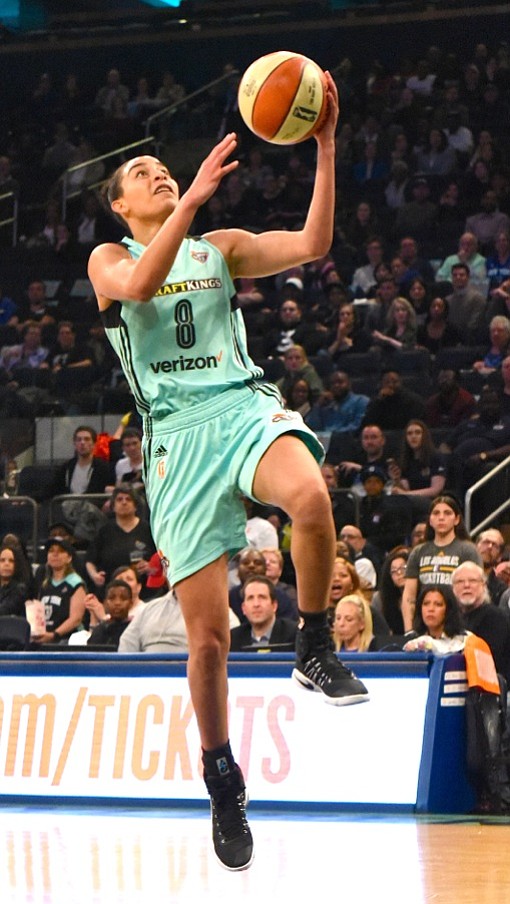 It's been a jam-packed six weeks for the New York Liberty. Since a stretch of home games in June, the team has largely been on the road, most recently completing a five-game, two-week road trip that took them around the country. Tuesday, the Liberty returned to Madison Square Garden and prevailed 81-76 in a close, aggressive game against the Indiana Fever.
"We came with the energy tonight…we didn't play great, but we played with enough energy to win the game," said coach Bill Laimbeer. "I played a lot of people. I took Tina [Charles] out early. She was getting a little tired. The bench got some quality minutes."
Four Liberty players scored in double digits: Shavonte Zellous with 16, Tina Charles with 26, Bria Hartley with 13 and Kiah Stokes with 12. Long Island native Hartley, who had a baby earlier this year, seems to be hitting her stride.
"I thought we got off to a really good start," said Hartley. "They played a great game. They went on their runs, but we were able to withstand their runs. At the end of the game we hit some free throws that kept them from getting within reach of the game."
She added, "I'm a lot more confident and comfortable out there. We're feeling good. To come home, we want to make sure we give our crowd a really good game. We want to give them some wins. We're happy to be here."
The crowd of 10,068 was loud and on their feet in the fourth quarter. It was Garden of Dreams night, and three of the program's participants performed at halftime. There were also quite a few celebrities in the crowd, including cast members from "Orange Is the New Black" and "Underground," as well as Chelsea Clinton, who enthusiastically greeted the Timeless Torches.
"The game was a thriller," said Nayo Raincock-Ekunwe. "Happy we pulled it out in the end. The team came together and everyone contributed in their own way. That's what we have to do to get our wins."
The win put the Liberty at 13-12 as WNBA regular season moves into its final few weeks. "It was a really great win for us, one that was really important," said Rebecca Allen. "These home games are pretty vital in terms of our standings when it comes to playoffs."