MOVE 9 commemorates 39 years behind enemy lines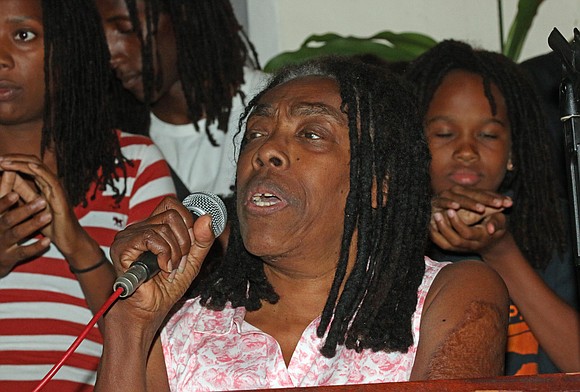 Four decades after the MOVE 9 were imprisoned in what many contend was an unjust frame-up case, supporters of the Philadelphia-based MOVE Organization packed Brooklyn's House of the Lord Church (415 Atlantic Ave.) this past Saturday afternoon to attend the "39 Years Too Long: Free the MOVE 9" seminar. The annual acknowledgement usually occurs in their hometown. However, this year they decided to share their tragic experiences with New York's grassroots community.
MOVE's minister of confrontation, Sister Pam Africa, laid out the events of May 20, 1977, when Philly's finest harassed and brutalized members of the back-to-natural living group at their West Philadelphia home while serving eviction papers.
She explained how that event led to the event of Aug. 8,1978, when police attacked their Powelton Village home (at 311 N. 33rd St.), and officer James J. Ramp was killed by a shot to the back of the neck. MOVE supporters contend it was friendly fire from the police, because he was hit from behind.
Although trial judge Edward Malmed admitted that he "didn't have the faintest idea" who killed Ramp, he convicted all nine MOVE members of the third-degree murder and hit each with 30-year to 100-year sentences. Seven of them became eligible for parole during the spring of 2008, but all were denied parole when they appeared before the parole board.
Pam Africa concluded her presentation by advising, "If you wanna fight this government, go in your community and teach people who they are."
In 1998, Merle Africa, 47, died in prison of cancer. Phil Africa, 59, also passed while incarcerated, in 2015. The remaining seven, Chuck Africa, Michael Africa, Debbie Africa, Janet Africa, Janine Africa, Delbert Africa and Eddie Africa, are still incarcerated.
Janine Africa called in from the belly of the beast to say, "We're not incarcerated because we committed crimes. We're here because we told the truth! It's part of the tribal control of African people. MOVE was showing there's a different way of doing things."
CEMOTAP's Dr. James McIntosh, contending that MOVE's constitutional rights were violated, said, "Everybody has the right to do as they like in their own home.
Philadelphia's police department and commissioner Frank Rizzo were investigated by the federal government during the late 1970s, citing charges of corruption and planting drugs and weapons on innocent civilians.
Years of police brutality and harassment culminated with the May 13, 1985, incineration of an entire city block, when a police helicopter dropped a bomb on MOVE's home at 6221 Osage Ave., killing 11 people, including five children. Then-Mayor Wilson Goode approved the "major military operation to be carried out by the Philadelphia police."
Elected activist Assemblyman Charles Barron noted, "We have always supported MOVE. I didn't think anybody could do worst to MOVE than Rizzo, until Wilson no-Goode came along. It was a Black man that decided to drop that bomb on our children. We have to remember that. That is something that has happened throughout our history. Sometimes it's our own folks that is used by the system to do us wrong."
Ramona Africa, sole adult survivor of the May 13 standoff, concluded, "It was our unrelenting fight for our innocent family members that got under the skin of those running this system. They couldn't stop us. They tried everything. Alberta Africa's baby was killed. They deliberately destroyed all evidence at the scene of the crime. Why would they do that if MOVE really killed a cop? They would've preserved all the evidence they could to prove that MOVE killed a cop, but they didn't do that. They destroyed it. Now what kind of trial you gonna have after that?"
For more information, visit https://www.causes.com/campaigns/92454-Free-The-move-9.