SMARTBALL and the Golden Hoops tournament both begin this week
Vincent Davis | 8/10/2017, 9:40 a.m.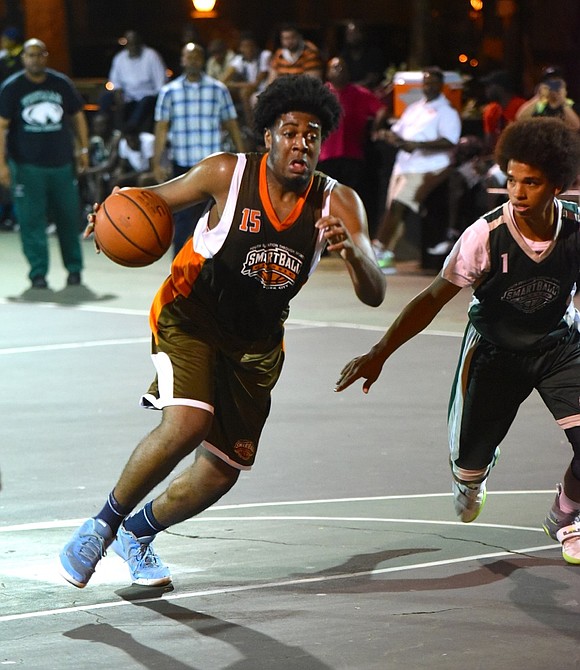 SMARTBALL and the Golden Hoops basketball tournament start up this week, highlighting some of the best high schools and players from the metropolitan area. SMARTBALL, which started Monday, is played at the Abraham Lincoln Playground at 135th Street and Fifth Avenue. In the event of rain, the games will be played down the block at the Kennedy Center. 
Golden Hoops games, beginning tonight, Thursday, and those Friday, the qualifying rounds, will be played at East 129th Street and Lexington Avenue. Golden Hoops playoffs and the championship will be played at the world famous Rucker Park at Fredrick Douglass Boulevard and West 155th Street Saturday and Sunday. 
Golden Hoops is a part of the Harlem Week festivities now taking place. Eight teams are participating: Team Puerto Rico from Puerto Rico, I-Ball from Philadelphia, the BCNY Hawks, Each One Teach One and the New York Dragons from Manhattan, Team I-Con from Long Island, the Governors from Queens and the Bingo All-Stars from the Bronx.
SMARTBALL features Lincoln High, this year's city and state champions, along with Bishop Loughlin, Boys and Girls, Brooklyn Law and Tech, South Shore and Thomas Jefferson from Brooklyn; All Hallows, Bedford Academy, Cardinal Hayes, Eagle Academy, Harry S. Truman, KIPP NYC, Monsignor Scanlon, Saint Raymonds and Wings Academy from the Bronx; Benjamin Cardozo and John Bowne from Queens; Frederick Douglass Academy, WHEELS and Wadleigh Secondary School from Manhattan; Curtis from Staten Island; and Iona Prep from New Rochelle—22 teams total. There's also an international all-star game, featuring a team from the Bahamas Aug. 23, the day before the championship Aug. 24.