Supporters hoping Mugabe will name a successor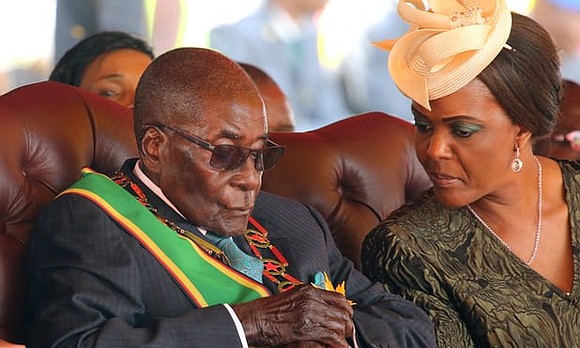 As the field of presidential hopefuls appears to grow by the day, reports state that First Lady Grace Mugabe is now urging her husband to name a successor to be the next president of Zimbabwe.
In a meeting with members of the ruling party's women's league this week, Mrs. Mugabe explained that naming a successor "will enable all members to rally behind one candidate." Her comment has fueled speculation that she was either angling for the lofty position or doubted her husband's physical capacity to run for another five-year term starting next year.
Until now, Mrs. Mugabe supported the president's wish to rule until his 99th year. Her husband, she said at the time, could rule even from the grave.
Mugabe has repeatedly said he will not choose a successor. The world's oldest head of state insists he will contest next year's election although he appears to be in a weakened condition, struggling to walk and napping through important meetings.
He has led the southern African nation since 1980.
While Mrs. Mugabe and her supporters wait impatiently for direction from the president, members of the opposition have been hard at work, plotting how to unseat the 93-year-old leader at the ballot box. The Movement for Democratic Change Party of Morgan Tsvangirai has now signed a pact with six other political parties, including several of his former allies, to contest next year's elections as a united front.
"We owe it to the thousands of Zimbabweans to make sure that in our lifetime we can remove the beast called ZANU-PF," former Finance Minister Tendai Biti said, referring to Mugabe's ruling party.
Missing from a group shot of the all-male coalition was Joice Mujuru, the former vice president, who signed a Memorandum of Understanding with Tsvangirai in April to work together and field a single presidential candidate. She is a political figure who's thought to command support in some perceived ruling party strongholds. It's understood she's uncomfortable with Tsvangirai as leader of the alliance.
Meanwhile, Mrs. Mugabe's comment raised hackles among her party's Youth League. ZANU-PF youth leader Kudzanai Chipanga said the president should not be rushed into anointing his successor, adding the 93-year-old politician still had until 2023 to consider stepping down.
If the president plans to contest next year's vote, his last under the constitution, he will be 99 if he wins and finishes the five-year term