Tax the rich: De Blasio wants millionaires to get MTA on track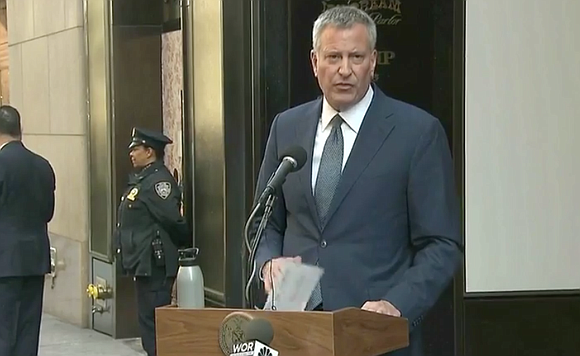 New York City Mayor Bill de Blasio turned to a tried and true method for improving the Metropolitan Transit Authority: Have the rich pay their fair share.
Monday, the mayor announced a proposal that would allegedly rake in close to $800 million per year via an income tax increase on individuals who earn more than $500,000 and married couple who earn more than $1 million. De Blasio said the money would be used to fund MTA projects, including a Fair Fares program providing half-priced MetroCards to New Yorkers living at poverty levels and subway and bus repairs. Legislation for the proposal was introduced by New York State Senator Michael Gianaris and New York State Assembly Member Daniel O'Donnell.
"Rather than sending the bill to working families and subway and bus riders already feeling the pressure of rising fares and bad service, we are asking the wealthiest in our city to chip in a little extra to help move or transit system into the 21st century," said de Blasio in a statement. "Instead of searching for a quick-fix that doesn't exist, or simply forking over more and more of our tax dollars every year, we have come up with a fair way to finance immediate and long-term transit improvement and to better hold the state accountable for the system's performance."
According to the city, de Blasio's proposal would increase the highest income tax rate from 3.876 percent to 4.41 percent. The increase would affect an estimated 32,000 New Yorkers who file taxes. The city already sets aside $1.6 billion in operational support for subways and buses. De Blasio's proposal would need the approval of state lawmakers and faces an uphill battle in a Republican-dominated State Senate.
MTA Chairman Joseph Lhota welcomed De Blasio owning his part of the MTA issue but said money's needed now to fund problem fixes.
"The good news is that Mayor de Blasio has acknowledged New York City's significant ownership of the New York City Transit Authority and the fact that new funding is needed to modernize the subway system," said Lhota in a statement. "The bad news is that the mayor has not acknowledged that the MTA needs funding today. You can't delay an emergency plan to stop delays. The challenges the subways are facing today need immediate resources and solutions right now, not years from now."
But de Blasio's found allies for his plan in U.S. Congressman Adriano Espaillat, Working Families Party New York State Director Bill Lipton and New York City Council Member Ydanis Rodriguez.
"A millionaire's tax, or the 'fair fix plan,' is a powerful statement that highlights how serious the city is about fixing the system we rely upon so heavily," said Rodriguez in a statement. "Whether we move forward with this plan or the many others I have discussed in recent weeks, our top priority must be implementing a revenue stream we can rely on for years to come, because this is the only way we can overcome the decay our transit system has sustained over the past few decades."