Tax the rich: De Blasio wants millionaires to get MTA on track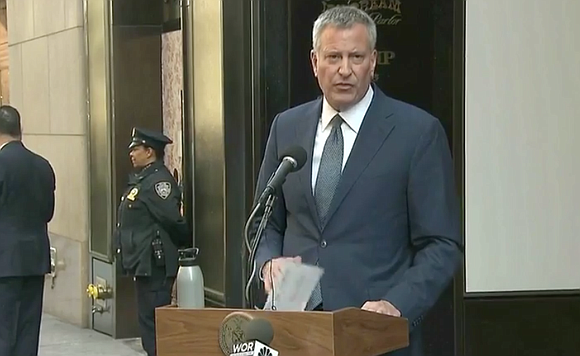 Rodriguez continued, "The millionaires tax and other initiatives should allow us to raise more permanent revenue for the MTA, and together we should take the transportation system to the 21 century."
Lipton said that it's high time that rich New Yorkers financially assist the city they live in.
"For decades, working families have watched as Republicans—and too many Democrats—have cut income taxes for the wealthy and refused to make critical investments in infrastructure," said Lipton in an emailed statement to the AmNews. "This proposal meets the moment by asking the wealthiest 1 percent to pay more so we can have a world-class transit system."
De Blasio's announcement hasn't deflected attention from his back and forth with New York State Gov. Andrew Cuomo over ownership of the MTA's issues, particularly with the subway. Cuomo, who declared a state of emergency for the MTA back in June, publicly called for de Blasio to contribute more financially for projects. De Blasio's camp has criticized Cuomo for diverting funds allegedly meant for the MTA to projects such as light installation on bridges and cosmetic changes to subways. The mayor wants Cuomo and company to return capital funds to the MTA.
Cuomo, meanwhile, is pushing for the same type of congestion pricing plan former New York City Mayor Michael Bloomberg advocated for when he manned City Hall to help fund the MTA.
Citizens Budget Commission President Carol Kellermann said she appreciated de Blasio pushing the Fair Fares program, but hiking taxes to do it isn't necessary.
"The Mayor's proposal to raise the top rate on the personal income tax to help fund MTA capital spending is not an appropriate way to raise revenue for the MTA," stated Kellermann. "Taxpayers, particularly New York City taxpayers, already provide approximately 40 percent of the mass transit budget through the payroll mobility tax and other taxes."
Kellermann concluded, "While it is constructive to focus discussion on the transit system's long-term capital needs, new funding streams to support these needs should come from motorists—who are not contributing their fair share to the MTA—through congestion pricing or other charges for motor vehicle use."
The nonpartisan, nonprofit Reclaim New York didn't discuss the Fair Fares program and objected to the taxes on principal. In a released statement, the organization said de Blasio's plan puts the responsibility on city residents instead of Albany.
"New Yorkers' heads must be spinning trying to make sense of the Mayor's Doctor Jekyll and Mister Tax Hike routine," read RNY's statement. "After two weeks of rightfully demanding accountability from Governor Cuomo and Albany for the MTA's summer of hell, he now wants to let them off the hook and make taxpayers pay for it.
The statement continued, "If high taxes and massive spending were the solution to the subway's meltdown, we'd already have a flawless mass transit system."