Black man brutally beaten by white supremacists during Charlottesville clash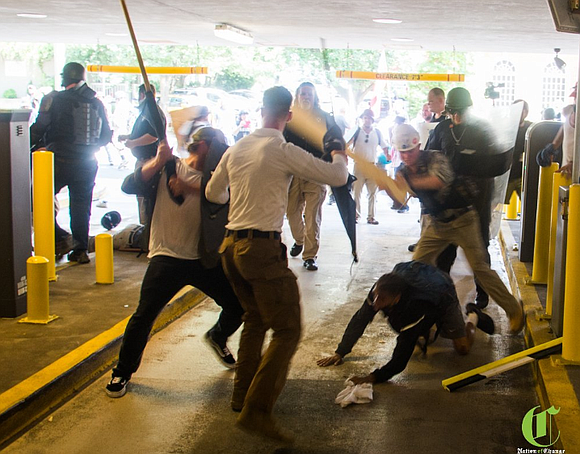 Deandre Harris is getting little attention in the infinite hours of coverage of what happened in Charlottesville, Va. Images of him put in the gallery of other photos, including the Little Rock Nine integrating Central High School and Black youth being sprayed with fire hoses in Birmingham, Ala. in 1963.
Harris, 20, was brutally beaten during Saturday's violent clash between white supremacists and counter-demonstrators in Charlottesville.
Neo-Nazis, white supremacists and the KKK were in Charlottesville protesting against the removal of the Robert E. Lee statue in Emancipation Park. Violence ensued between the two groups, resulting in one death after a car rammed into a crowd, injuring many.
"I was only there for a few minutes before I was hit with water bottles, Maced with pepper spray, and had derogatory slurs hurled at me," Harris said. "I was chased and beat with metal poles. I was knocked unconscious repeatedly. Every time I went to stand up I was knocked back down."
A photo of the incident captured by Zach D. Roberts has gone viral on social media, which shows Harris on his hands a knees and three white men beating him with poles. Video shot by a bystander give the full scope of the beating with white supremacist yelling "Get out of here!" and "Die nigger!"
His injuries include lacerations to his head, a cut above his eyebrow, a busted lip, broken wrist and a chipped tooth. Harris was diagnosed with a concussion, an ulnar fracture and received eight staples in his head.
Reports indicate the attack happened at a parking garage near a police station. No arrests have been made and law enforcement is hoping the photo of the attacker will lead to an arrest.

In an interview with The Root, Harris said he and five friends were out protesting the "Unite the Right" rally. They exchanged words with white supremacists and Harris was rushed by several white men.
More shocking is the fact that the incident took place so close to the police station, with officers nearby who could have stopped the attack and arrested the perpetrators but did nothing. Harris said his mother is considering legal action against the city.

"They could have killed my son," his mother, Felicia Harris, said in one report. "That blow to his head could have taken his life. Every time I think about it and I think about seeing those videos, it hurts. It hurts a lot."
A GoFundMe page has been set up for to assist him with medical expenses. With an initial goal of $50,000, donations totaled more than $144,000 as of Wednesday.