Virginia leaders rally at Black church after hate-filled event turns deadly
By Holly Yan, Nicole Chavez and Devon M. Sayers, CNN | 8/13/2017, 2:05 p.m.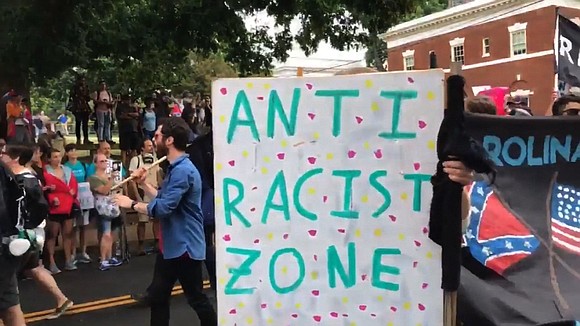 (CNN) -- As Virginians grappled Sunday with the deadly aftermath of a white nationalist protest, state leaders didn't preach about unity from their offices or on TV -- they went to a historically black church in Charlottesville.
"We come to you this morning to reassure you that the Commonwealth of Virginia and all of us that are in this together will not and do not condone white supremacists that brought their hatred and bigotry to the Commonwealth of Virginia," Lt. Gov. Ralph Northam told Mt. Zion First African Baptist Church, to roaring applause.
"That's not what we're about. So I am here this morning, as your lieutenant governor, and also as a doctor, to start the healing process."
Less than 24 hours had passed since a driver plowed into demonstrators protesting against white nationalists in Charlottesville.
Heather Heyer, 32, was killed. Two Virginia State Troopers monitoring Saturday's protests from the sky, Lt. H. Jay Cullen and Trooper Berke M.M. Bates, were killed when their helicopter crashed.
At one point, Gov. Terry McAuliffe asked the congregation for a moment of silence to honor Heyer and the troopers, "who lost their lives yesterday doing what they loved doing -- fighting for freedom."
"I feel right at home here at the Mt. Zion church," the governor said. "I was invited today to go on a lot of TV shows. I turned them all down, because I needed to be where I should be, here in this beautiful church here today."
The racial divides that fueled Saturday's violence were replaced by unity Sunday as one white elected official after another received standing ovations from the black congregation at Mt. Zion.
"We will get through this stronger than we were yesterday," Charlottesville Mayor Michael Signer told the crowd.
"Our democracy has been through a lot. We've been through segregation and Jim Crow. We've been through McCarthyism. And we will get through this challenge. And we're going to do it together."
Here's the latest on what happened, the victims, the suspect and the investigation:
What happened
Counterprotesters met white nationalists and other right-wing groups at the site of Saturday's "Unite the Right" event hours before the rally was set to start.
Clashes broke out, and police began to disperse crowds.
Local officials declared the rally an "unlawful assembly," and the governor declared a state of emergency.
About two hours later, a gray Dodge Challenger rammed into a crowd of counterprotesters walking down a street in downtown Charlottesville.
The driver slammed the car in reverse and fled the scene backward. The suspected driver was arrested later that afternoon.
The victims
Thirty-two-year-old Heather Heyer was killed in the car crash.
Another 19 people were wounded, including five people still in critical condition Sunday, a spokeswoman for the University of Virginia Medical Center said.
Two Virginia State Patrol troopers died when a helicopter crashed in a wooded area near Charlottesville after monitoring Saturday's events. The pilot, Lt. H. Jay Cullen, 48, and Trooper Berke M.M. Bates, who would have turned 41 on Sunday, were killed. Authorities are investigating the cause of the crash.