Brooklyn assemblyman raises the question on why are there nuclear weapons
Saeed Shabazz | 8/17/2017, 1:49 p.m.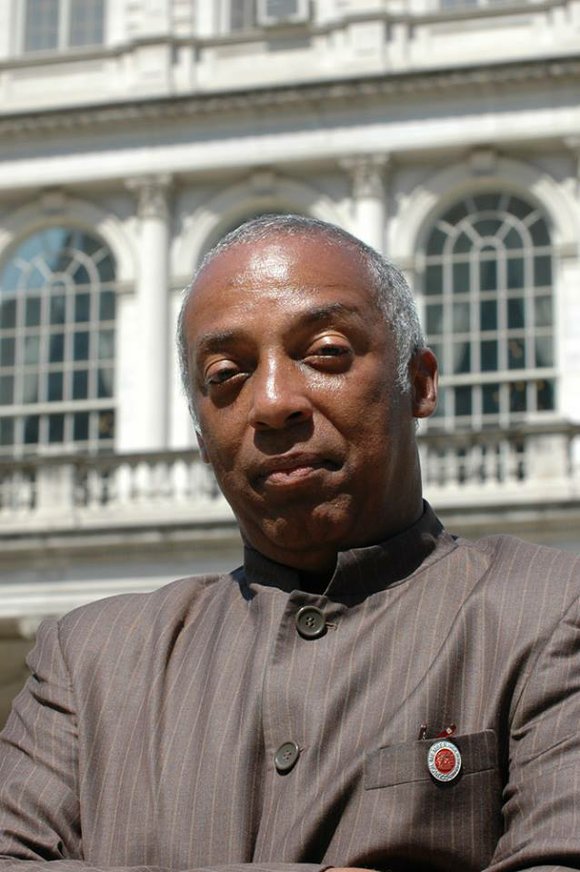 "The United States does not have the moral authority to speak out against North Korea's nuclear weapons when they remain silent about Israel's nuclear weapons," Assemblyman Charles Barron stated in an email to the AmNews.
"We the peace-loving people of the planet Earth must demand that no more nuclear weapons be made (non-proliferation) and that all nuclear warheads are to be dismantled (disarmament)," Barron said. "We must call for a nuclear-free world."
Weeks before Barron sent out the email, 122 nations adopted a treaty at the United Nations July 7, known as a "legally binding instrument to prohibit nuclear weapons with a view to their total elimination."
By the terms of the treaty, each nation would never, under any circumstances, develop, test, produce, manufacture, otherwise acquire, possess or stockpile nuclear weapons or other explosive devices. In addition, States Parties would never transfer such weapons or devices; use or threaten to use them; or allow them to be stationed, installed or deployed on their territory, according to the U.N.
Also the treaty said that, a States Party in possession of nuclear weapons or other nuclear explosive devices would immediately remove them from operational status and destroy them as soon as possible.
Elayne Whyte Gomez (Costa Rica), conference president, said U.N. member states were telling those affected by nuclear weapons that the first seeds of a world free of them had been sown after so many decades. She added, "The treaty would indeed make it possible for future generations to inherit a world free of nuclear weapons."
Similarly, delegates called the adoption a historic moment after decades of stagnation. South Africa's representative said that July 7 would be remembered as the "epoch-making" day when the world body and civil society had taken extraordinary steps to rid the world of the nuclear threat. Several speakers argued that there was a political and moral imperative for doing so, with Cuba's representative describing nuclear weapons as immoral, unjustifiable and illegal. Lebanon's representative, speaking for the Arab Group, expressed hope that the treaty would bolster the quest for a nuclear-weapon-free Middle East (Israel).
"The racist state of Israel has 80 nuclear warheads, according to the Stockholm International Peace Research Institute," Barron stated in his email, "compared to North Korea's six or eight and not a peep from the U.S."
In 2016, the Bulletin of the Atomic Scientists published an article titled "Does Israel really have 200 nuclear weapons, or was Colin Powell exaggerating?"
The story noted that Israel "long maintained" a policy of "nuclear ambiguity," neither confirming nor directly denying that it has a nuclear arsenal. Some observers say it was the Federation of American Scientists in late 2014 that estimated Israel had approximately 80 nuclear warheads. It was in an email to sources that former U.S. Secretary of State and four-star general Colin Powell reportedly said Israel had 200 nuclear warheads.
Analysts are saying whether it is 80 or 200, they do not understand why a nation that does not have a strategy for fighting nuclear war need that many types of warheads to deter its potential adversaries.
"We need to disarm," Barron told the AmNews during a telephone interview. "I am speaking out because America isn't saying anything about Israel having nuclear weaponry."
In a March 28 article in The Independent, published in the United Kingdom, it was stated that the U.S. had joined with Russia and China in "sitting" out the July treaty conference. According to The Independent, the nuclear powers argue that an "outright" ban would not work, so nations should stick with the gradual approach adopted by the 1968 Nuclear Non-Proliferation Treaty. U.S. ambassador to the U.N., Nikki Haley, speaking during a news conference said, "As a mother, as a daughter there [is] nothing I want more than a world without nuclear weapons, but they had to be realistic."
Remember, said Barron, "The U.S. is the only country that dropped an atomic bomb on another country. Remember Hiroshima and Nagasaki in Japan. America's atomic bomb killed hundreds of thousands of innocent Japanese women, children and men."