Each One Teach One and Golden Hoops close it out in Rucker Park
VINCENT DAVIS | 8/17/2017, 4:36 p.m.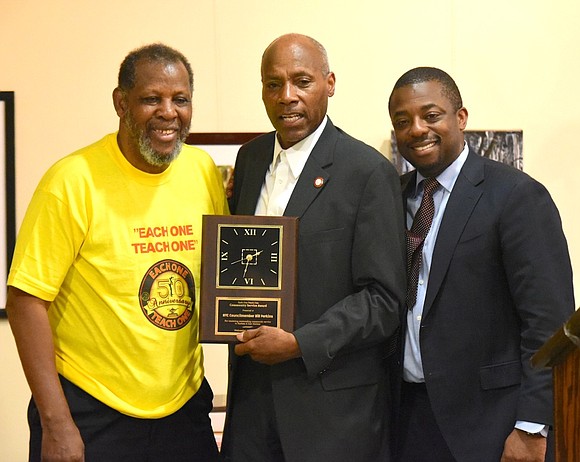 The Each One Teach One Summer League and the Golden Hoops Tournament both concluded with their championship games at the world famous Rucker Park. The Each One Teach One team participants have been competing over the summer. The Golden Hoops began last week, with single-game eliminations.
This season, Each One Teach One featured three divisions: The Biddy, Middle School and High School. Polo Grounds, from Harlem, defeated Playtime, a New Jersey team, 68-47 in the Biddy Division championships. Lab Out from Mount Vernon beat Promise Academy, also from Harlem, 70-45 in the Middle School Division championship. Harlem PAL defeated Puerto Rico, 64-48 for the High School Division championship.
MVP awards went to Randell Buchanon (Polo Grounds): 26 points, 6 rebounds and 10 assists; Matthew Phillips (Lab Out): 16 points, 10 rebounds, 2 steals; and Aliou Cisse (Harlem PAL): 19 points, 6 rebounds, 7 assists and 2 steals.
Sportsmanship awards were presented to Braylin Sang (Playtime): 11 points, 7 assists and 3 steals; Khalil Robinson (Promise Academy): 13 points, 6 rebounds, 10 assists, 3 steals; and Mike Rivera (Puerto Rico): 14 points, 11 rebounds, 2 steals and 1 block.
Celebrating their 50th Anniversary, the Each One Teach One program also hosted an award ceremony at the Adam Clayton Powell Jr. State Office Building Thursday honoring former Congressman Charles B. Rangel, NYS Assemblyman Herman "Denny" Farrell, NYS Assemblywoman Inez E. Dickens, NYS Assemblyman Robert Rodriguez, NYC Councilmember Bill Perkins and Nina Saxon, president of the Arturo Schomburg Democratic Club. NYS Senator Brian Benjamin was the master of ceremony.
The Golden Hoops, a Harlem Week sponsored tournament for high school student athletes, also featured a high school girls all-star game: The Denise All-Stars, from the Bronx, versus the Harlem Stars (Manhattan). It was a 42-23 victory for the Denise team. Kara French (Denise All-Stars), with 11 points, 6 rebounds, 3 assists with 2 steals, was the game's MVP. Jariah Johnson (Harlem Stars), with 14 points,11 rebounds, 3 steals and 1 block, received Sportsmanship honors.
The featured game, the Bingo All-Stars (Bronx) versus Puerto Rico was won by the Bingo All-Stars to take this year's Golden Hoops championship, 80-74. Receiving MVP honors was Terrence McBride for the Bingo team: 23 points, 6 rebounds, 3 assists and 2 steals. Receiving the Sportsmanship Award was Nicholas Rivera: 23 points, 8 rebounds, 2 steals, with 1 block.