JAZZ NOTES: Billy Hart, Basie, Parker Fest, McCloud tribute, Farafina
Ron Scott | 8/17/2017, 2:19 p.m.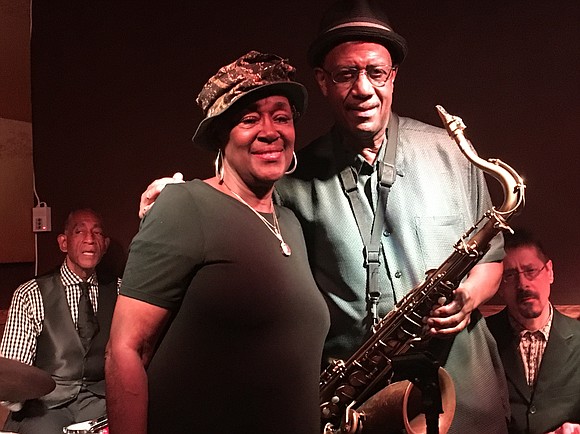 Billy Hart is a stalwart drummer whose reputation is as noteworthy as a luminous full moon. His concentrated focus, playing style and fresh openness has led him to this spotlight in time.
Tonight (Thursday) through Aug. 20, Hart will carry on at the Village Vanguard (178 Seventh Ave. South at 11th Street).
William "Count" Basie, the prominent bandleader, composer and pianist, whose great orchestra added the "w" in swing left us for that big band in the sky back in 1984.
His spirit lives on through his Legendary Count Basie Orchestra, directed by Scotty Barnhart. Aug. 17 (tonight) to Aug. 19 at Birdland (315 W. 44th St.), they will demonstrate why the pianist from Redbank, N.J. was the leader of one of the top swing orchestras in the country.
Barnhart was the orchestra's trumpeter for 21 years until 2013, when he became director. Trombonist Clarence Banks and vocalist Carmen Bradford (daughter of Melba Joyce) were the last two musicians Basie hired before he passed.
"All of our arrangements are from the Basie Book, but we also have some new music we've added from vocalist Kurt Elling, Adele and Earth, Wind & Fire," said Barnhart. "We have a new CD coming out, the first 80 years of the orchestra, featuring Stevie Wonder on his 'My Cheri Amour' and organist Joey DeFrancesco on 'April in Paris.'"
Two shows each night are at 8 p.m. and 10:30 p.m. For reservations, visit the website www.birdlandjazz.com.
The question arises: Should Charlie Parker's photo go under the word jazz or saxophone in Merriam-Webster's dictionary? Although he died in 1955 at the young age of 34, people are still in awe when his name is mentioned. When you hear a tune by him, it is engrained in your subconscious for eternity.
His revolutionary harmonic ideas, including rapid passing chord, and his unique overall tone and style made him a genius.
The Charlie Parker Jazz Festival (free) is now five days, Aug. 23 through Aug. 27, celebrating its 25th anniversary. Aug. 23 will feature music from "Charlie Parker with Strings" (a string of standard jazz ballads), one of the most beautiful adventurous albums ever recorded and Parker's most outstanding, at the New School Auditorium (66 W. 12th Street), 7:30 p.m. to 9 p.m.
The performance is under the direction of Keller Coker, dean of The New School for Jazz and Contemporary Music, with guest soloist Dave Glasser (alto sax). A chamber orchestra featuring musicians from the Mannes School of Music and the New School for Jazz and Contemporary Music will perform arrangements from Charlie Parker's (1949-1950 Mercury recording), "Charlie Parker with Strings." The standards will include "Summertime," "I'm in the Mood for Love," "East of the Sun," "Everything Happens to Me," and "They Can't Take That Away From Me."
The musicians will be playing from the original scores. Parker's music is so enchanting there is no need for any arrangement augments. "We are diving into a repertoire that has not been overdone," said Coker. "There is a little pressure, but that makes it fun we have to challenge ourselves. We are always making music, and magic can happen at any moment."