JAZZ NOTES: Billy Hart, Basie, Parker Fest, McCloud tribute, Farafina
Ron Scott | 8/17/2017, 2:19 p.m.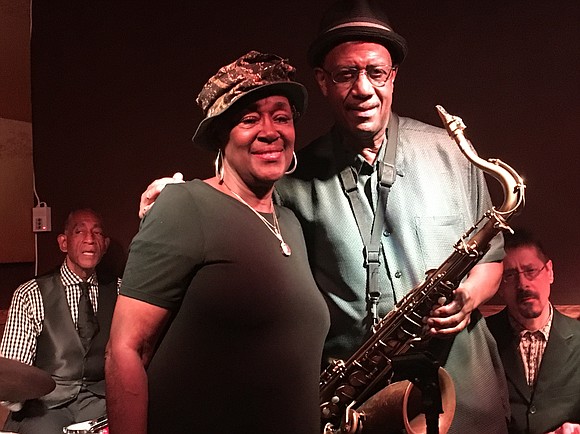 Glasser, the alto soloist for the evening, spent more than a decade with Clark Terry's band, plus well-spent stints with Illinois Jacquet and Barry Harris, learning from the men who were there. "To perform this great music of Bird's is an honor and challenge," noted Glasser. "I am going to play what I hear. The love and respect I have for him will surface."
Aug. 24, the festival moves uptown (for the next three days) to Marcus Garvey Park (124th Street and Mt. Morris Park West), with Jason Samuels Smith's "Chasin' the Bird" remixed, 7:30 p.m. to 9 p.m., and Aug. 25, the clarinetist/composer Anat Cohen Tentet and the saxophonist Camille Thurman. Hopefully, she will grace the audience with a song or two (7 p.m.-9 p.m.).
Aug. 26 (3 p.m.-7 p.m.), an all-star line-up with saxophonist Lee Konitz and his quartet, the drummer/composer Terri Lyne Carrington and Social Science, the celebrated drummer Louis Hayes and the vocalist Charenee Wade.
Aug. 27 the festival concludes downtown at Tompkins Square Park (East Seventh Street and Avenue A) with saxophonist Joshua Redman and his quartet; influential alto saxophonist, composer and humorist Lou Donaldson; Tia Fuller; and vocalist Alicia Olatuja (3 p.m.-7 p.m.).
Berta Indeed, a long time Harlem resident and jazz promoter, along with Patience Higgins and his Sugar Hill Quartet, are keeping the late bassist and composer Andy McCloud III's legacy alive. They recently paid tribute to him at Farafina Café.
McCloud was an original member of Patience Higgins' Sugar Hill Quartet. The quartet was in full force, playing a few of McCloud's original tunes and his favorite "Red Top" by the Kansas City saxophonist Ben Kynard.
Higgins and keyboardist Marcus Persiani performed, but mainstays of the quartet, drummer Dave F. Gibson and bassist Alex Hernandez, were out of town. Sitting in were drummer Dorian Brake and bassist Donald Nicks.
"I have been doing a tribute since Andy passed away in 2010 because he meant so much to me and to the band," said Indeed. "So when he passed, I had to keep his legacy and music going."
McCloud and pianist Les Kurtz were the original members of Higgins' quartet. At the time, Indeed had them booked into Harlem's Mark IV until she made a deal with Earl Spain of St. Nicks Pub for the group to become the house band until the club's demise.
The Sugar Hill Quartet always swings hard, but being inspired by their former member McCloud took them to a higher level closer to the late bassist's new surroundings. Special guests included Annette St. John, who did a sultry rendition of "The Falling Leaves." Lady Catrese from a youngster to a now established singer joined forces with Sister Zock as a rousing duo breaking out Nina Simone's "Four Women." The high-octane source of Sister Zock's spoken word weaving about the high-fidelity phrasing of Lady Catrese led to a flaming good time.
Farafina Café & Lounge (1813 Amsterdam Ave. at 150th Street) is becoming the next happening eatery and jazz spot in Harlem. There is no music or cover charge.