"Step" into the lives of young women just like you
LAPACAZO SANDOVAL | 8/17/2017, 2:05 p.m.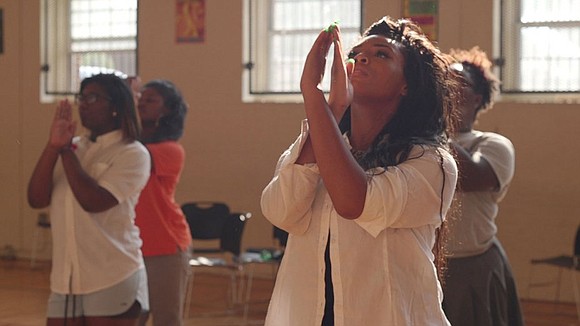 There might be an early Oscar contender in the documentary category this year, with several key industry predictors giving the "dark horse," aka "the little film that could," a serious second look.
"Step" is soulful without trying to be. It's also very entertaining and unexpectedly inspirational because it dares to use the art of stepping as metaphor and a benchmark of the first graduating class of the Baltimore Leadership School for Young Women, focusing on the step team (the Lethal Ladies), who are about to become part of the first graduating class and their attempts to get into college. These are African-American women and at high risk of slipping through the cracks that run through the American system, but not so at the BLSYW. You can almost hear the administration's cheer: "No great mind left behind!"
Filmmaker Amanda Lipitz, who is white and a Broadway producer marks this film as her feature-length directing debut, and she is also a Baltimore native herself. Along with her mother, they were both involved in the founding of the BLSYW charter school (2009). In "Step," she keeps the focus on three distinctly different members of the Lethal Ladies squad. Blessin Giraldo, with her innocent but troubled dimpled smile who dreams of movie-star glamour. As the captain and founder of the BLSYW Lethal Ladies step team, she has a flair for translating her passion into words, declaring, "Step is life." However, academically, Blessin is not working at her potential. Her single mother, Geneva, suffers for depression and Blessin missed 53 days of school in her junior year—causing her to be banned from the team—and her absence hurt her fellow steppers as they went up against other crews. Enter the no-nonsense college counselor Paula Dofat, whose sole goal is to make sure that each and every girl has the scholastic and financial means to pursue a higher education.
The second girl is Cori Grainger who is street-wise and balanced. As the class valedictorian—a spot she has held since the sixth grade—her goal to be admitted to Johns Hopkins becomes sharpened during her senior year. Her mother, Triana, is deeply devoted and newly married to her longtime boyfriend, with six children between them.
A full scholarship is a necessity.
The third girl is Tayla Solomon, an only child with a wiry outlook on life and a killer eye-roll move that speaks volumes. Her mother, Maisha, a correctional officer—God bless her soul— is a big old kid herself and the unofficial den mother to the step team. Not a pushover, despite her comedic antics, when Tayla's grades begin to slip after she becomes involved with a male friend, Maisha blocks the budding romance, saying, "Boys have cooties. Stay away."
Life happens, and director Lipitz was filming in Baltimore in 2015 when Freddie Gray died in police custody. The racially charged backdrop adds something more to the story about these girls, and why "getting out" is so vital to them individually and as a community.
The step team's new coach, Gari McIntyre, grew up on the same street as Gray, and the theme of "Black Lives Matter" colors a choreography with urgent chants that include "Hands up, don't shoot" as well as "I'm Black and I'm proud." The Lethal Ladies perform in a citywide warmup competition to the ultimate event that will include teams from Maryland, Virginia and Washington, D.C. To get ready, the team endures grueling run-throughs.
Life keeps happening, especially for Blessin, who is denied college admission but is finally interviewed by two women for a special bridge program that will ease her entrance into the rigors of college. What we witness is one of the most moving moments in "Step," when, after Blessin exits the room and Dofat, knowing it's game time for the young woman, breaks into tears while pleading her case.
Everything about "Step" works, and in the end, you feel like you have the courage to step up and onward toward your own life goals.