Trump Charlottesville fallout continues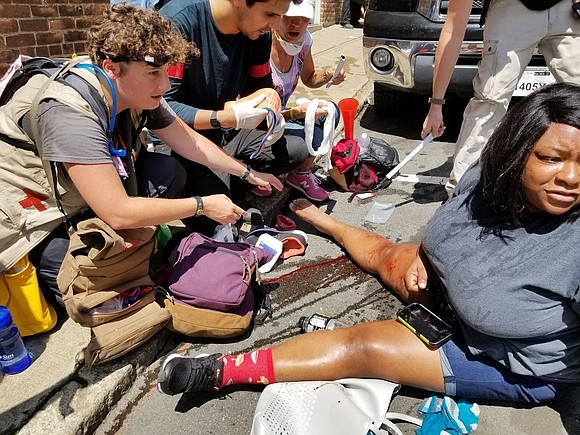 Even those critics who have developed an impenetrable steel-like facade to the almost daily panned President Donald Trump statements, tweets and actions were astounded as he likened the flag-carrying, torch-wielding, stick-waving neo-Nazis and their ilk to the mostly white counter-protestors in Virginia.
Even seasoned journalists present at Tuesday's Trump Tower news conference said they were stunned by Trump's remarks as he berated the "alt left" and refused to outright condemn the planned violence in Charlottesville, which led to the death of one protester, and the deaths of two state police officers in a helicopter crash.
Embolden by a president for whom racially provocative statements were a daily part of incendiary campaign rhetoric, Trump's supporters, including Klansman David Duke have announced that they are engaged in what amounts to a race war to "take the country back."
With future rallies planned, players in various fascist groups are declaring that they are armed and ready with will, intent and munitions.
In the "silence speaks a thousand" words lane of things, Democrats and Republicans both attacked Trump for not—even days later—calling the violence and murder in Charlottesville an "act of domestic terrorism"
It took him 50 hours to finally denounce—by tele-prompted script—the fascist-themed rally that was protesting the removal of a Robert E. Lee statue in Emancipation Park. One day after tiki-torch carrying right wingers held their march, more of their ilk took to the streets, clashed with counter-protestors, and one of their number used a vehicle to mow down at least 20 people, killing 32-year-old Heather Heyer, a white female.
Yet, Tuesday, what Trump said to assembled journalists about that weekend of violence, refusing to call the neo-Nazi groups "domestic terrorists" and blaming both sides, only added fuel to a white-hot fire.
Congresswoman Yvette D. Clarke said, "Donald Trump spoke of violence 'on many sides.' Really? At best this was him being totally detached from reality and an honest misunderstanding of the real situation or at worst a demonstration of solidarity with the white supremacists who marched in his name. We have witnessed him advocating violence at his campaign rallies and have difficulty denouncing the endorsement of David Duke. We have even most recently heard him advocate for police brutality right here in the state of New York."
"The president's statement is two days late and a dollar short," said Kristen Clarke, president and executive director of the Lawyers' Committee for Civil Rights Under Law. "It should not take two days and a national tragedy for the president to take action and disavow white supremacists. When it comes to the safety and the security of our communities, too many of which now feel targeted by hate-fueled protestors, two days is too late. Despite his statement, President Trump has pursued the advancement of policies that promote the marginalization of minority communities, which emboldens the very white nationalists who descended on Charlottesville. And he continues to seek the counsel of Steve Bannon, who once bragged that the Trump administration is 'the platform for the alt-right.'  It is no wonder that former Ku Klux Klan president David Duke said this weekend's rally was to 'fulfill the promises of Donald Trump.'"