Trump Charlottesville fallout continues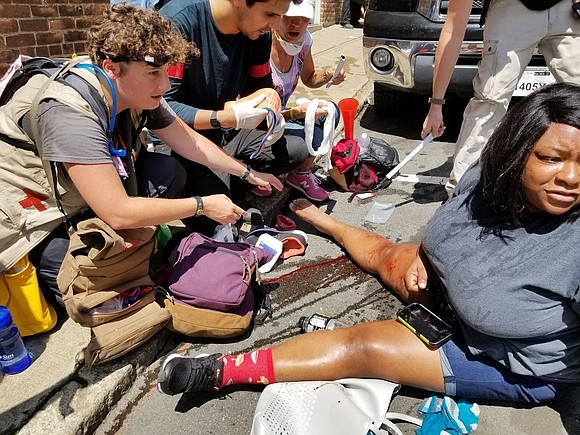 Even those critics who have developed an impenetrable steel-like facade to the almost daily panned President Donald Trump statements, tweets and actions were astounded as he likened the flag-carrying, torch-wielding, stick-waving neo-Nazis and their ilk to the mostly white counter-protestors in Virginia.
Even seasoned journalists present at Tuesday's Trump Tower news conference said they were stunned by Trump's remarks as he berated the "alt left" and refused to outright condemn the planned violence in Charlottesville, which led to the death of one protester, and the deaths of two state police officers in a helicopter crash.
Embolden by a president for whom racially provocative statements were a daily part of incendiary campaign rhetoric, Trump's supporters, including Klansman David Duke have announced that they are engaged in what amounts to a race war to "take the country back."
With future rallies planned, players in various fascist groups are declaring that they are armed and ready with will, intent and munitions.
In the "silence speaks a thousand" words lane of things, Democrats and Republicans both attacked Trump for not—even days later—calling the violence and murder in Charlottesville an "act of domestic terrorism"
It took him 50 hours to finally denounce—by tele-prompted script—the fascist-themed rally that was protesting the removal of a Robert E. Lee statue in Emancipation Park. One day after tiki-torch carrying right wingers held their march, more of their ilk took to the streets, clashed with counter-protestors, and one of their number used a vehicle to mow down at least 20 people, killing 32-year-old Heather Heyer, a white female.
Yet, Tuesday, what Trump said to assembled journalists about that weekend of violence, refusing to call the neo-Nazi groups "domestic terrorists" and blaming both sides, only added fuel to a white-hot fire.
Congresswoman Yvette D. Clarke said, "Donald Trump spoke of violence 'on many sides.' Really? At best this was him being totally detached from reality and an honest misunderstanding of the real situation or at worst a demonstration of solidarity with the white supremacists who marched in his name. We have witnessed him advocating violence at his campaign rallies and have difficulty denouncing the endorsement of David Duke. We have even most recently heard him advocate for police brutality right here in the state of New York."
"The president's statement is two days late and a dollar short," said Kristen Clarke, president and executive director of the Lawyers' Committee for Civil Rights Under Law. "It should not take two days and a national tragedy for the president to take action and disavow white supremacists. When it comes to the safety and the security of our communities, too many of which now feel targeted by hate-fueled protestors, two days is too late. Despite his statement, President Trump has pursued the advancement of policies that promote the marginalization of minority communities, which emboldens the very white nationalists who descended on Charlottesville. And he continues to seek the counsel of Steve Bannon, who once bragged that the Trump administration is 'the platform for the alt-right.'  It is no wonder that former Ku Klux Klan president David Duke said this weekend's rally was to 'fulfill the promises of Donald Trump.'"
Vanita Gupta, president and CEO of The Leadership Conference on Civil and Human Rights, said, "It is a sad state of affairs when it's a news story that the president of the United States condemns racism and white supremacy. ... This unconscionable delay has undermined his moral credibility as our nation's leader. [Trump's] words must be followed by action. He must stop advancing policies that seek to divide this nation. Supporters of white supremacists, violent extremism, racial bigotry and neo-Nazis should not serve in the White House or at any level of government. The president should fire Stephen Bannon and Sebastian Gorka or any staffers who stoke hate and division."
"The KKK still has a place in America, and the neo-Nazi, white nationalist rally in Charlottesville only shows what Black people have known to be under the surface all along," said Bertha Lewis, president of the Black Institute. "Before you go on asking how this could happen in 2017, just look to the White House. Trump and the white supremacists currently serving in his administration have emboldened the hatred and bigotry which were on full display.
"The president's disgusting refusal to speak unequivocally against white supremacy has laid the foundation for the rally and the violent confrontations following. This is terrorism plain and simple, and it is despicable that he did not denounce the rally for what it was. His call for unity is utterly meaningless as long as he fails to take responsibility for this show of violence and hatred. Black and Brown people will not lie down in the face of such extreme racism. The fight for justice is not over."
As members of the December 12th Movement prepared the homegoing for the late co-founder Robert Taylor Wednesday, fellow member Omowale Clay told the Amsterdam News, "Robert Taylor would say, 'It's the political/economy stupid!' The economy and political structure is fractured. But, we cannot afford to be distracted by Trump, while at the same time Mike Pence is being positioned to take over as fascist agendas are being put in place in the seat of government."
Clay continued, "So you have the misdirection of Trump, and his immigration policies, his antics, and all the things he says as he attacks the same media, which put him where he is. Charlottesville is indicative of how many white people are feeling. So while you have a nation of angry white men, and skin heads, it is not the Brownshirts who are taking over, it is the right wingers in suits in the government, who are putting their program in place, while complicity keeping the Trump distraction going. White folks feel that their position is being threatened and is never coming back. The economy as they know it is shattered in every branch, and they are responding. Meanwhile, Robert Taylor would urge us to keep focused on what we need to do to fight for our liberation and locally, nationally and internationally."
Beware distractions agreed activist filmmaker Edward Harris. "Look and the birthrates look and the corporate corruption," he said. "Remember what a distraction is. Black folk should be quiet. This is fight between white men. Many of these so-called new organizations claiming to represent 'woke' Black people are suspect. Have we learned nothing? We should prepare to be strong with whoever/whomever comes out on top. Let us focus on developing international financial and our businesses, period."
New Black Panther Youth Minister Divine Allah also encouraged a 360-degree situational awareness. "These are those moments that our people have been consistently warned about over the years," he said. "We can no longer excuse or be fearful of the fact that racism/white supremacy is now more boldly showing its face, and we must prepare of ourselves, families, and communities to be on point."