Unions condemn 'alt-right' Charlottesville rally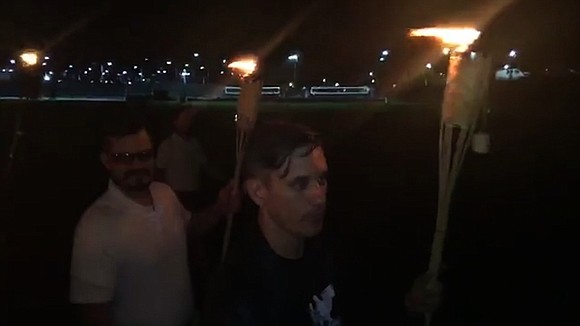 The results and aftermath of the 'alt-right' rally in Charlottesville, Va. are still being felt around country. After multiple fights and clashes between protestors and counter-protestors—and the death of one and injuries to many after an act of domestic terrorism—labor leaders were quick to call out and denounce the rally via statements and letters to their constituents.
"A life has already been lost in a senseless act of hatred in Charlottesville," said 32BJ President Hector Figueroa in a statement. "Our thoughts and prayers are with the families of those attacked today. As a union we reject these kinds of hateful actions and encourage our members, working families and the reasonable majority to peacefully stand up against the torch-bearing, Nazi-saluting white supremacists who are sowing chaos in Virginia."
Heather Heyer, 32, died after 20-year-old James Alex Fields Jr. drove his car into a crowd of counter-protestors in Charlottesville, hitting her and many others. Fields, who had a history of domestic violence against his mother, had come down from Ohio to participate in the alt-right rally.
"As Dr. Martin Luther King Jr. said, 'The ultimate tragedy is not the oppression and cruelty by the bad people, but the silence over that by the good people,'" said Figueroa. "We must denounce intolerance and hate, and demand that the Trump administration reject these kind of hateful acts that go against the very principles our country."
It took President Donald Trump more than two days to denounce the rally in Charlottesville, but several executives (including Merck CEO Kenneth Frazier) have left his economic council citing the president's behavior this past weekend and his response to the protests. Wednesday, Trump announced on Twitter that he's disbonding his manufacturing council and the strategy and policy forum altoghter.
Unions were quicker to denounce the rally than Trump. In a letter to their constituents, AFSCME President Lee Saunders and Secretary-Treasurer Elissa McBride not only rebuked what the rally stood for but also said that the union would speak with their wallets.
"AFSCME emphatically and unequivocally condemns the Nazi white nationalists who spewed vile bigotry and incited domestic terrorism Saturday," read the letter. "Now is a moment for all Americans who believe in freedom and justice, in tolerance and inclusion, to stand up and speak out. To combat hatred and violence, AFSCME is making contributions to the Southern Poverty Law Center and the Anti-Defamation League. We hope you'll join us in supporting these organizations."
The Chicago Teachers Union sent a similar letter to their constituents refusing to give the alt-right an inch on issues that affect them.
"Our position remains unchanged: The Chicago Teachers Union condemns any hate action and speech based on race, religion, citizenry, gender and gender identification," read the letter. "We embrace dialogue and debate in our union, but we will never waver when it comes to fighting racism. To sit idly by and do nothing would make us just as guilty as those we condemn."