War at Home: Trump & his Racists vs Everyone else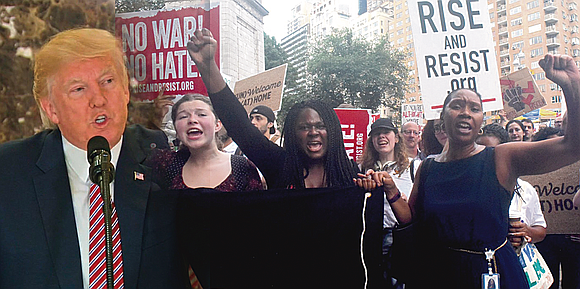 It's plain and simple: the 45th president of the United States, Donald Trump, is a racist and America put him in the White House.
Although many Americans are now coming to that realization, others have known for decades. The gathering and attack by white supremacists, neo-Nazi's and the KKK that occurred in Virginia last weekend and Trump's reaction made it clearer to many who claimed to be oblivious to it.
Tuesday, Trump took things from bad to worse when he equated white hate groups with those who were counter-protesting and saying that some people within the white supremacists, neo-Nazi's and the KKK were "fine people." He also referred to counter-protesters as the made-up "alt-left"
"I think there's blame on both sides," Trump said during an off the rails news conference at his Midtown tower. "You look at—you look at both sides. I think there's blame on both sides. And I have no doubt about it, and you don't have any doubt about it either."
Trump's words have created more division in the country over race relations, according to even those in his own Republican Party. Others say that he's keeping the base that put him in office pleased by blaming those fighting against racist.
Members of the Presidential Advisory Councils also resigned before Trump dissolved them entirely. Leaving first was Black Merck CEO Kenneth Frazier, who resigned from the president's American Manufacturing Council.
As white nationalists announce plans for even more gatherings across the country, the events over the past week signaled that it is just the beginning of a problem that never went away to being with.
Friday
It all started last Friday in the quiet college town of Charlottesville, population 48,210. The city, now an unwanted historical landmark of one of America's largest racist gatherings, is known by locals as C'ville and Hoo-ville with the motto "A great place to live for all of our citizens." It's also the location of the University of Virginia.
That evening, white nationalists from various alt-right groups descended on the campus for the "Unite the Right" rally to oppose the removal of the Robert Edward Lee statue in the city. Carrying Polynesian tiki torches, the group of mostly white men chanted to make their presence known
"You will not replace us!" "Jews will not replace us!" "Blood and soil!" "White lives matter!" and "Whose Streets? Our streets!" were among the phrases that passed through their lips. No longer wearing hoods to cover their faces, the thousands of white men allowed their identities to be in full view for the world to see.
The group gathered around a statue of Thomas Jefferson on the campus that was being protected by a group of counter-protesters. The white nationalist began swinging their lit tiki torches and a fight ensued. Several people were treated at the scene for minor injuries.
Saturday
Saturday, things came to a head when the white supremacists marched to Emancipation Park where the Robert E. Lee statue stands. Taking advantage of Virginia's open -carry law, many were armed with military-style guns, helmets, shields and poles. Others were dressed in polo shirts and khakis and carrying Nazi and Confederate flags. Many had on "Make America Great Again" caps and pro-Trump apparel.