War at Home: Trump & his Racists vs Everyone else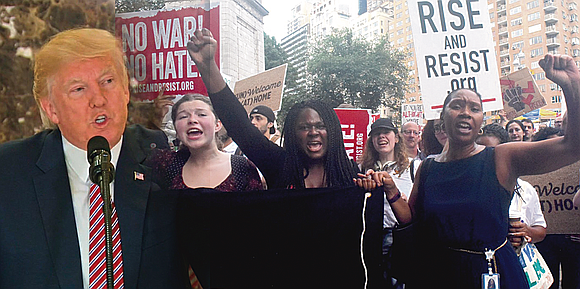 Counter-protesters were on the scene, appearing to outnumber the white nationalists. People of all races, religions and backgrounds banded together to oppose the white supremacists' presences.
Before the noon start time, those with the "Unite the Right" rally became increasingly aggressive, initiated street brawls using their poles and other weapons to attack.
One of the most horrific images is a video showing 20-year-old Black Deandre Harris being chased into a parking garage near the police station and being brutally beaten by white supremacists yelling "Get out of here!" and "Die nigger!" He was left with several injuries, including a concussion and bloody head
A total of 19 people were injured, and a state of emergency was declared by Virginia Governor Terry McAuliffe. "It is now clear that public safety cannot be safeguarded without additional powers, and that the mostly-out-of-state protesters have come to Virginia to endanger our citizens and property," he said. "I am disgusted by the hatred, bigotry and violence these protesters have brought to our state."
The precipice of Saturday's conflict came around 1:45 p.m., when 20-year-old self-proclaimed white supremacist James Fields rammed his 2010 Dodge Charger into a crowd of counter-protesters, killing 32-year-old Heather D. Heyer. Video shows several bodies being tossed like rag dolls during the domestic terror attack.
Also among those killed Saturday were Virginia State Police Lieutenant H. Jay Cullen and Trooper-pilot Berke M.M. Bates, whose helicopter crashed while they monitored activity on the ground.
Black leaders' reactions
The events in Charlottesville opened up old wounds of a racist American many thought had been put to bed. Reactions came swift from Black leaders from every spectrum, pointing blame to the White House.
"These kinds of actions should come as no surprise, however," said Derrick Johnson, interim president and CEO of the NAACP. "We are living under an administration that campaigned on hatred, discrimination and xenophobia. They have given permission and a platform for bigots, like the right-wing, white nationalists in Charlottesville, to thrive and spread violence."
The Rev. Al Sharpton said, "We cannot forget that this is also a symptom of the rhetoric the Trump administration has supported since the Presidential Election and into the White House, promoting violence, attacking civil rights, and allowing organizations backed by bigots to thrive."
"To be silent is to encourage the militaristic, hateful, un-American behavior we are witnessing in the streets of Charlottesville as hundreds of neo-Nazis, Klansmen and their supporters gather in that historic college town," the Rev. Jesse Jackson said.
Trump fallout
Trump initially reacted to the violence on Saturday while on a "working vacation" at his golf resort in New Jersey. Making remarks about veterans, he addressed the Charlottesville violence with a lackluster response, failing to name the white nationalists in an ad-libed response.
"We all must be united and condemn all that hate stands for," he said. "There is no place for this kind of violence in America. Let's come together as one. We condemn in the strongest possible terms this egregious display of hatred, bigotry and violence on many sides, on many sides."
Backlash over Trump not saying white supremacists, neo-Nazi or the KKK was instant with calls from nearly everyone for him to be specific. Both Republicans and Democrats shared their frustrations over the president.
More than 48 hours later at a news conference at the White House, Trump looked directly into the camera and appeared to be a teleprompter, specifically naming the groups.
"To anyone who acted criminally in this weekend's racist violence, you will be held fully accountable," he said. "Justice will be delivered. Racism is evil. And those who cause violence in its name are criminals and thugs, including the K.K.K., neo-Nazis, white supremacists and other hate groups that are repugnant to everything we hold dear as Americans."
Meanwhile, white nationalists are praising Trump for his words over the past week. Former KKK Grand Wizard David Duke tweeted that he was pleased with Trump for condemning "leftist terrorists," naming Black Lives Matter