The Yankees—It's nothing to worry about, or is it?
Vincent Davis | 8/17/2017, 4:46 p.m.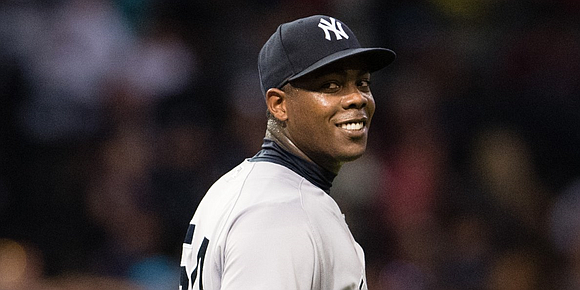 The New York Yankees were unable to gain any ground in their attempt to secure first place in the Eastern Division of the American League. Trailing the first-place Boston Red Sox, the Yanks were only able to win one of the three games that they played over the weekend at Yankee Stadium against their major rivals. Friday's 5-4 defeat of the Sox was a continuation of the up and down month that the Yankees, currently the American League Wild Card team, are having.
More down than up at the moment, a few games less than .500 baseball this month, the Yankees were able to capitalize on their two games against the Mets Monday and Tuesday at Yankee Stadium. The 4-2 and 5-4 wins allowed them to stay ahead of the Los Angeles Angels, who are vying for that Wild Card position.
The Yankees and Mets close out their Subway Series tonight (Thursday) at Citi Field in Queens, road games for the Yankees, who then travel to Boston after the game to play the Sox three more times, beginning tomorrow (Friday) through Sunday. 
The Angels, currently on the road here in the east playing the Baltimore Orioles tomorrow (Friday) through Sunday, have won 11 of 15 games this month. They've played the Yankees six times this year, winning four, losing two. No more games between these two teams are scheduled. Four more Yankee-Sox games are on their schedule, Aug. 31 and Sept. 1 through Sept. 3, all in the Bronx.
Boston, off today before they take on the Yanks again tomorrow, have only lost twice so far in the month of August, with 10 wins.
One of the problems plaguing the Yankees is the sluggish hitting of their young outfielder Aaron Judge, who has only hit six home runs since the All-Star break, and the inconsistency of their closer Aroldis Chapman. Chapman gave up hits in the ninth inning against the Red Sox Sunday, taking the loss, 3-2 in 10 innings. The hard-throwing lefty has allowed runs in three straight games. It was thought that it could be a hamstring problem, but according to Chapman, "It's nothing to worry about."