Kaepernick's protest is gaining support while he's still out of a job
By David A. Love | 8/22/2017, 6:08 p.m.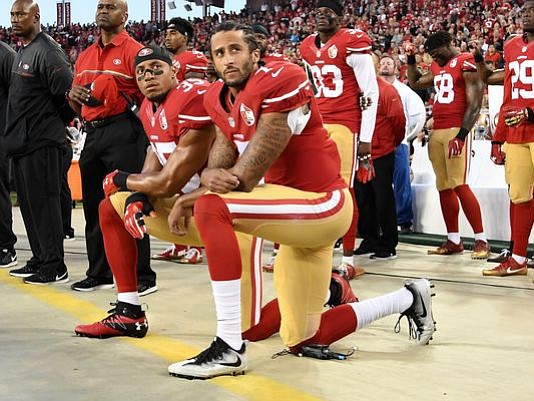 (CNN) -- The protest movement Colin Kaepernick started is rightfully growing and having a much needed impact on the conversation of racial inequality in America.
On Monday, seemingly motivated by the violence that erupted in Charlottesville, Virginia, a dozen players from the Cleveland Browns kneeled during the national anthem before their game against the New York Giants, the largest NFL protest since Kaepernick first took a stand by taking a knee in August 2016.
Among those participating were Isaiah Crowell, Duke Johnson, Jabrill Peppers, Christian Kirksey, Seth DeValve, Jamie Collins, Kenny Britt, Ricardo Louis and Jamar Taylor. DeValve is the first white player to kneel after Michael Bennett of the Seattle Seahawks called on white players to join the protests and bolster the effectiveness of the movement.
Last week, Justin Britt of the Seahawks, Derek Carr of the Raiders and Chris Long of the Eagles responded by holding onto black teammates during the singing of the anthem.
Still, there is every indication that the NFL is blackballing Kaepernick for conspicuously expressing his political views. The decision of more NFL players to take a knee is also a way to stand up for their former colleague.
Are professional athletes like gladiators whose role is to entertain the crowd, run and throw the ball, and be seen but not heard? Last season, Kaepernick, then a quarterback for the San Francisco 49ers, took a stand against police abuse and racial violence when he took a knee and sat down during the singing of "The Star-Spangled Banner," a song that, in part, celebrates the murder of runaway slaves who fought with the British in 1812, according to writer and academic Jason Johnson.
Kaepernick's resounding, yet silent, on-the-field protests drew support from many and outrage from others, bringing into focus important yet long-neglected issues of racial justice.
Athletes should be allowed to speak their mind, as social protest; wanting to make America a better place is a most noble form of patriotism. Instead, the NFL seems to be penalizing Kaepernick for his pro-Black Lives Matter stance.
This recalls other condemnations of athlete-activists. Let us not forget Muhammad Ali, who refused to serve in the Vietnam War and lost his boxing license and title, or Olympic medalists John Carlos, Peter Norman and Tommie Smith, who were vilified and ostracized for the iconic "Black Power" salute at the 1968 Summer Olympics in Mexico City.
"I am not going to stand up to show pride in a flag for a country that oppresses black people and people of color," Kaepernick told NFL Media. "To me, this is bigger than football and it would be selfish on my part to look the other way. There are bodies in the street and people getting paid leave and getting away with murder."
Indeed, it is bigger than football. And for a league that is made up of 70% black men, it's ironic that the NFL expects police brutality against African-Americans not to incite feelings of outrage and the spirit of protest among its players.