Hundreds of Jews, Christians and Muslims unite against racism, anti-Semitism
8/24/2017, 3:34 p.m.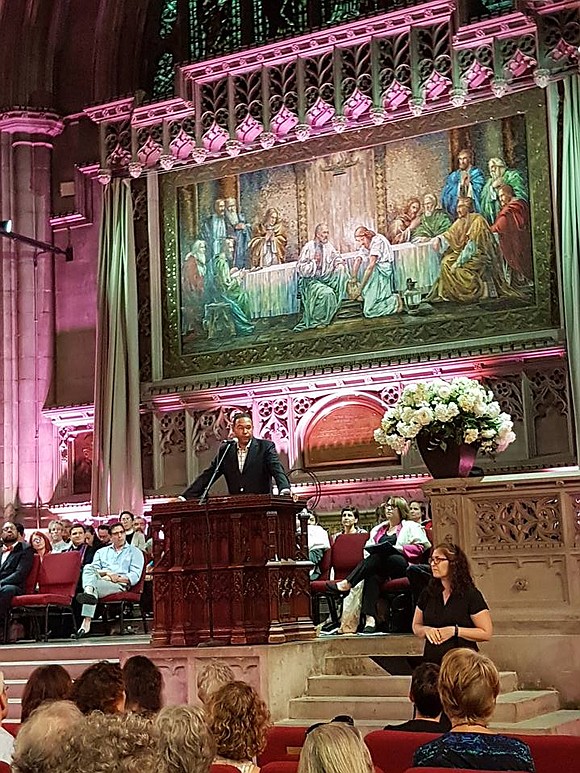 A diverse and growing coalition of New York City religious clergy and faith organizations called people of faith to gather, in the face of the emboldened racism and resurgence of anti-Semitism in America, for "Yes to Love, No to Hate" Interfaith Solidarity, Hope and Action, Wednesday, Aug. 23, 2017, at the Fourth Universalist Society, 160 Central Park West.
Organizers Rabbi Lauren Grabelle Herrmann (Society for the Advancement of Judaism), the Rev. Dr. Nigel Pearce (Grace Congregational Church), Rabbi Shuli Passow (B'nai Jeshurun), Rabbi Joy Levitt (JCC Manhattan) and the Rev. Shuyler Vogel  (Fourth Universalist Society) see this event as the spark to empower faith communities to take part in ongoing action to dismantle white supremacy in New York and around the country.
Soon after the plans were announced, interested co-sponsors began to pour in from all over the city. More than 60 organizations signed on to be part of the evening's program, which featured music from different religions, as well as speakers Imam Shamsi Ali, the Rev. Brian Gibbs-Ellis, Rabbi Roly Matalon and the Rev. Chloe Breyer, who emceed the program.
Despite the diverse landscape of religion, race and ethnicity represented by the sponsors, the communities of faith share a common set of values and morals:
• The belief that all people are created equal in the image of God. All God's children are worthy of love, respect, safety and security.
• Rejection of white supremacy, in all of its forms, and commitment to standing up for the rights and safety of people of color, Jews, Muslims, immigrants and LGBTQ individuals.
• Commitment to action, however small or large, that will reach across political, religious, denominational and racial divides in spreading understanding, acceptance, respect and love.
• The understanding that though the communities and individuals may not agree on everything—from tactic to policies—they share a vision of a future in which we are all free to live without fear and to live up to our God given potential.
"I believe our country is in a moment of crisis," said Rabbi Herrmann. "For the past two weeks, white supremacists and Nazis have been marching in Charlottesville and other cities in America, without masks and without fear of retribution. It is time for the faith community to come together to fight this kind of hate, as well as the kind of hate and terror that has impacted people and communities of color for long before Charlottesville. I believe there is more that unites us than divides us."  
"Unfortunately race, religion and sexual orientation continue to matter in America," said the Rev. Dr. Pearce. "For this reason, we are uniting to pierce the darkness with our light and our love."
"Racism, anti-Semitism, xenophobia and homophobia are deeply painful issues that have torn families apart, threatened communities and individuals and claimed precious human life," said the Rev. Dr. Chloe Breyer, executive director, Interfaith Center of New York. "Many of us are scared and angry, but together we will use our energy for good—to forge new relationships and bridges of understanding so we can support each other and stand up to hate."  
This gathering is the first of many planned by the coalition.