March for Justice update
TYLER WILLIAMS and ELINOR TATUM | 8/24/2017, 3:17 p.m.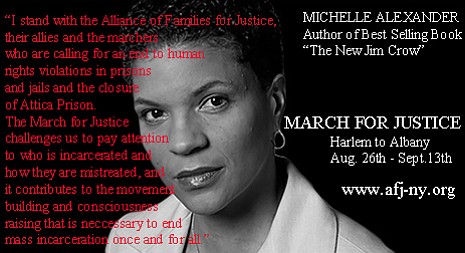 This Saturday, Aug. 26, will mark the beginning of a 180-mile, 18-day march that is calling for the closure of the Attica correctional facility, the elimination of human rights abuses in state prisons and jails and comprehensive reform of the juvenile justice system.
The march has been called by the Alliance of Families for Justice. The marchers will walk from New York City to Albany.
Soffiyah Elijah, who is the executive director and founder of Alliance of Families for Justice, organized the march. Some participants will walk the entire march, and others will join in for a few miles on any given day.
The plan is for the group to walk approximately 10 miles a day, culminating 18 days later in a major rally and news conference in Albany, on Sept. 13, 2017, the anniversary of the 1971 Attica uprising.
Black Rising Radio host and AFJ volunteer, Kevin Barron, spoke with the Amsterdam News: "Final preparations are being made. We are excited that actor and activist Danny Glover will be joining us as we kickoff Aug. 26."
Also according to Barron, the AFJ march will have a kickoff lineup that will include Impact Repertory Theatre, a performing arts theater that resides in New York City; actress Liza Jessie Peterson; Joel Forrester, a jazz composer and pianist; Dave Tarlo and the Hudson Valley Sally, a folk band in New York City; and Craig Harris Ensemble, a jazz ensemble group that is in New York.
Barron shared with the Amsterdam News a four-minute video that describes the March for Justice in detail. In the video, Elijah speaks about the focus of the march, saying, "The March for Justice is focused on a number of different aspects of mass incarceration. The central focus is the conditions of confinement and human rights violations that occur inside of New York prisons and jails."
Barron was also in the shared video and expressed his viewpoint on why he is participating in the march. Barron said, "I am marching because I think a lot of the inhumanity in the criminal justice system needs to be put in the forefront of our minds."
Barron added, "My wife was incarcerated, so I have a good idea of the impact it has on families. I have five children. When a father or mother is taken out of the household, that has a profound effect on families, especially on the children."
Lilly Oseitutu, the AFJ co-logistical lead and AFJ member, also spoke out about why she is marching. She said, "If I tell you the truth, the real reason why I am marching is because there are too many of our brothers and sisters, mothers and fathers, sons and daughters [who are incarcerated] that can't march with us. I personally believe they should be free to march with us, but they can't. As long as every single one of them is in a situation where they're being abused, exploited and essentially being kept prisoner, I'm going to keep marching until they're home with me and they can march by my side."