Elected officials, community leaders demand removal of Central park monument honoring controversial doctor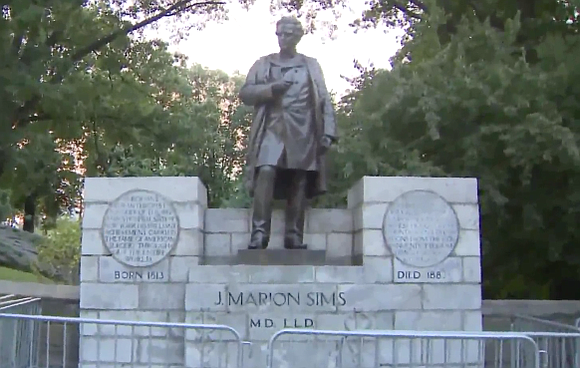 City Council Speaker Melissa Mark-Viverito, elected officials and community leaders rallied this week outside Central Park to demand that the New York City Parks Department remove a statue that pays tribute to Dr. J Marion Sims, a physician who conducted medical experiments on enslaved Black women.
Known as the "father of modern gynecology," Sims performed experimental surgeries on 12 enslaved women without their consent or anesthesia. During documented operation, a female slave nearly died of septicemia.
Several other elected officials are calling for the Sims statue to be taken down: Council Member Robert Cornegy, State Senator Brian A. Benjamin and Manhattan Borough President Gale A. Brewer.
The call for the removal of the statue comes as several Confederate landmarks across the nation are coming down in response to the violent Charlottesville, Va. "Unite the Right" rally, where one person was killed. The Sims statue is located on 103rd Street and Fifth Avenue.
"At a time when neo-Nazis, white nationalists and hateful right-wing extremists run rampant throughout the country with impunity, we must send a definitive message that the despicable acts of J. Marion Sims are repugnant and reprehensible," Mark-Viverito said. "J. Marion Sims conducted horrific, painful, medical atrocities on non-anesthetized enslaved Black women with free rein."
The elected officials renewed their demand for the de Blasio Administration and the Parks Department to include the J. Marion Sims statue in the 90-day review the administration is currently conducting of all symbols of hate on city property. Friday, Mark-Viverito issued a letter to Mayor de Blasio formally requesting the City evaluate the Sims monument.