Nigerian leader, ending three month hospital stay, returns with fiery speech
(GIN) | 8/24/2017, 2:37 p.m.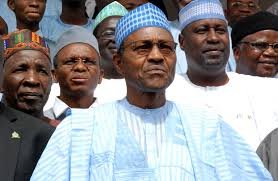 After a long absence because of ill health, President Muhammadu Buhari returned to Nigeria, pledging to renew the fight against terror group Boko Haram and end a rash of ethnic violence that he blamed on "political mischief makers."
Buhari, 74, looking thin and frail, referred to a movement of Biafrans seeking an independent region in the southwest. The group had crossed a "national red line," he said. The separatists were "daring to question our collective existence as a nation."
He added, "This is a step too far."
Fifty years ago, the people of Igboland waged a futile war of secession against the well-armed Nigerian government, citing the persecution of Igbos and control over oil production in the Niger Delta.
The Federal Military Government imposed a blockade that led to severe famine. Over the two and a half years of war, between 500,000 and 2 million Biafran civilians perished from starvation.
Although the Igbos are one of the three largest ethnic groups, they have fewer states than the Hausas in the north and the Yorubas in the southwest, resulting in a smaller budget allocation.
This disparity, some feel, puts them behind the other regions. The southeast has not been at the forefront of Nigeria's development, and none of its cities are major economic hubs.
Nnamdi Kanu, leader of the Indigenous People of Biafra, has called on his followers to boycott local and national elections scheduled for Nov. 18. Arrested in October 2015 for allegedly intending to levy war against Nigeria, he faces a trial on charges ranging from treasonable felony to terrorism and illegal possession of firearms.
Many Nigerians were disappointed that Buhari failed to comment on his prolonged health issues, but no reasons were given for his absence and no information was given about the diagnosis.
Solomon Okoduwa said to a reporter, "As a leader and the No. 1 citizen, he should be able to tell his subjects the kind of headache, the kind of malaria, the kind of fever he went to treat in the U.K. that we cannot treat in Nigeria."
Failure to disclose the nature of his health issues is widely seen as an indication that Buhari has something to hide.
Nigerians will be watching to see whether he is going to make a third medical trip abroad this year. If that were to happen, calls for his resignation will surely be expressed even louder.