Overweight white rapper becomes larger-than-life star in 'Patti Cake$'
LAPACAZO SANDOVAL | 8/24/2017, 4:49 p.m.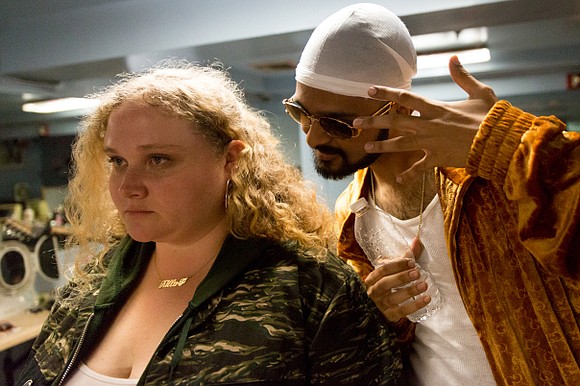 Music video director Geremy Jasper knows how to turn an indie underdog into an unlikely rap star, and in his charming feature film "Patti Cake$," you've never met an underdog rapper like Patricia Dombrowski, aka Patti Cake$.
Her community teases her, calling her Dumbo, but Patti Cake$ keeps her head held high and her dreams of superstardom moving forward. Her best friends know her true wealth and call her Killa-P, and her girth just adds to her charm as a white hip-hop artist who announces her force-of-nature personality with sick rhymes and bravado. To wit, her very first song, "mylifesfuckinawesome," gives you a gigantic clue on what she's working on—interiorwise.
Patti Cake$ is lovable, an unlikely talent and the heart of one of the year's most endearing discoveries. Making Patti Cake$ come alive is actress Danielle Macdonald, an Australian émigré who devours the screen. Raised on the pulse of MTV, Patti Cake$ fancies herself a gangsta, and to cope with her mounting hardships, she lives in a musical fantasy world that is complete with smoke machines and her alter ego—introduced as a star by hip-hop producer O-Z (Sahr Ngaujah), who brings Patti Cake$ to the stage for a massive concert. Fantasy is bliss. Then Patti wakes up and it's back to her gloomy reality, which is living in a shabby pigsty that she shares with her hard-drinking mother Barb (Bridget Everett) and wheelchair-bound grandmother (Cathy Moriarty).
Patti's life is dull. She works at a bar with a boss who refuses to give her extra hours, and her mother drinks away most of what she earns. Tragically, her mom was once a promising musician but gave all that up when she became pregnant with Patti. She's not supportive of her daughter and frankly doesn't consider rap to be music.
It's OK. Patti isn't looking to prove herself to anyone. She is happy with her one friend, who is also her biggest fan, Hareesh (Siddharth Dhananjay). Bonus points: as a rapper, Patti is fearless, engaging in [rap] battles with rivals and willing to do so anywhere, even in gas-station parking lots. To achieve her dream, Patti schemes with Hareesh, who helps her secure some long-yearned stage time. On the romantic side, Patti imagines herself with a slimy drug dealer (Patrick Brana), who works at the local pizza parlor, and a mad-at-the-world punk rocker (Mamoudou Athie), who calls himself Basterd the Antichrist. Basterd the Antichrist lives in a shack behind a graveyard, and Patti convinces him to musically collaborate, resulting in one of those witnessing-something-special scenes with Patti and Hareesh spontaneously creating the signature song of their
new group—PBNJ.
The group PBNJ churn out a few songs under their collective belt and record a demo album, and the very ambitious Hareesh starts to look for a venue where they can unleash their sound upon the world. The answer is a "gentlemen's club" called Cheeters, a dive with a New Jersey twist.
Great news! Patti is talented, knocking out the profane songs that Jasper has written for her with uncompromising flair. She is a big girl, and society tends to underestimate sisters of a certain size, viewing them as lazy or unmotivated, and Patti's here to prove otherwise. This movie is the kind in which the energy builds to such levels that it feels like you are on the verge of giving multiple standing ovations.
The ensemble collective is pitch perfect. A special mention to the director of photography, Federico Cesca. If Patti Cake$ were a real rapper, this film would make her a star!
"Patti Cake$" is written and directed by Geremy Jasper. The film stars Danielle Macdonald, Bridget Everett, Cathy Moriarty, Siddharth Dhananjay, Mamoudou Athie, Patrick Brana, Sahr Ngaujah, and MC Lyte.