Ramarley Graham's mother releases new legal filings against the NYPD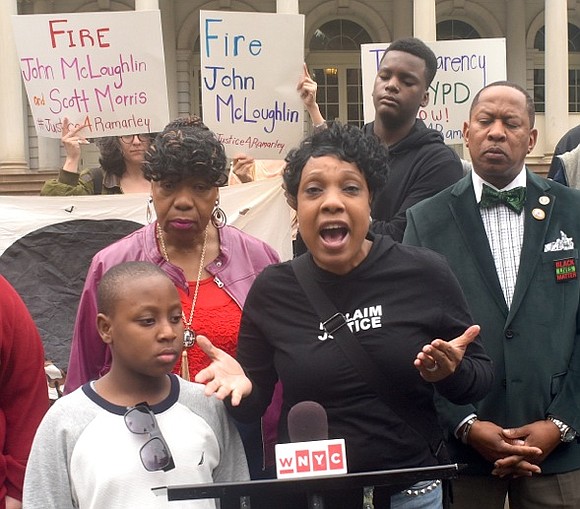 Constance Malcolm, the mother of Ramarley Graham, announced a new legal filing against the New York City Police Department for what she believes are efforts to conceal critical information about Graham's 2012 killing by officers.
In the new legal filing, the parties who brought the initial lawsuit argue that the NYPD refused to comply with its Freedom of Information Law request from September 2016. The NYPD claims that turning over records would prevent them from conducting fair and impartial disciplinary trial.
Graham was fatally shot in 2012 by NYPD officer Richard Haste as Graham attempted to flush a small amount of marijuana down the toilet in his own home. Video surveillance shows the teen calmly entering his home, and seconds later, the cops are seen in hot pursuit of the retreating Graham, smashing in the front door and entering the home without permission or a warrant.
A Bronx grand jury indicted Haste on two counts of manslaughter, but Judge Steven Barrett dismissed the indictment because of a prosecutorial error made by the Office of Bronx District Attorney Robert Johnson.
Officer John McLoughlin kicked open the door to the family's apartment, leading to Haste shooting and killing Graham. Sergeant Scott Morris was the ranking officer on the scene who allowed the unlawful entry that precipitated Graham's killing.
Morris and McLoughlin, who were charged by the NYPD years ago in Graham's killing, have yet to have trials scheduled by the police department. The filing calls on the Supreme Court of the State of New York to order that the NYPD provide the requested records.
"There are no words to describe how my family feels about the fact that it has been more than five years since my son Ramarley was murdered by the NYPD, and we still can't get basic answers and the City still hasn't held officers accountable," said Malcolm. "Sergeant Scott Morris and Officer John McLoughlin should already have been fired, but five and a half years later, we're still waiting for the NYPD to schedule their disciplinary trials."
The Progressive Caucus of the New York City Council also filed an amicus brief in support of Graham's family and the other petitioners. Council Member and Co-Chair of the Progressive Caucus Antonio Reynoso, said Graham's family deserves to understand the circumstances of his death.
"The family has been seeking justice and transparency for the last five years, since Ramarley was killed by NYPD officer Haste in 2012," he said. "That's why the Progressive Caucus has filed a legal amicus brief supporting the family in their continual challenges to the NYPD's denial of information. The Progressive Caucus is committed to issues of police accountability and transparency and building stronger relationships between the police and the communities that they serve."