Talking SCHOP! by the seafood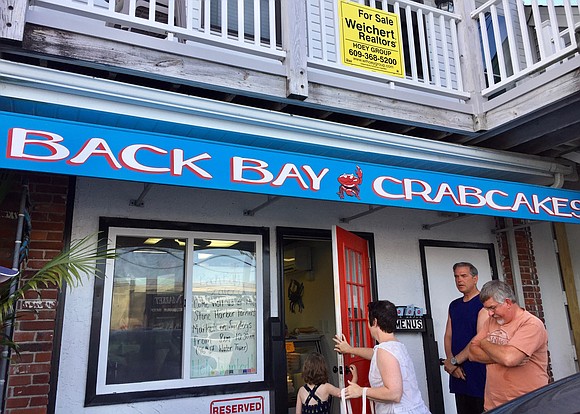 OK, so I missed the eclipse (next one in 2024), but I was returning from another fun family vacation in Martha's Vineyard with my aunt and cousin. The planets do need to align for it to happen, if that counts. The vacation before this one was spent in Stone Harbor, N.J., with a great college friend and her family. It all has me reminiscing about the seafood I ate.
August rolled around quickly it seems and I was counting down the weekends left to go somewhere, do something. Just then, my friend Maura shouted me out and said, "Come down to the house next week." I hopped on a bus to Atlantic City, and there were Maura and my niece, Maggie, waiting to scoop me up. Off we went.
I had only heard of Stone Harbor and Avalon before this visit, although driving into town, I felt I had been there before—bay on one side, ocean on the other. It was Fire Island but with cars. It took me no time to settle into the vibe.
Maura and I enjoyed a beer in the Adirondack chairs on the porch before she hit me with the menu to order dinner, Back Bay Seafood (@BackBaySeafood, 8305 Third Ave., 609-368-2022, backbayseafood.net). Maura said they are famous for their crab cakes, so that entrée was a no-brainer. However, in the battle between crab meat au gratin en casserole and crab imperial (soufflé-like), the gratin got us.
Maura and I got one entrée with fries and the other a huge baked potato. Back Bay Seafood crab cakes did not disappoint. Lumps of crab barely held together with bread/cracker crumbs. And that au gratin—I need to pause and reflect for a moment—lump crab swathed in cream sauce with a golden-brown cheese topping. We dipped the fries, the baked potato, the bread and anything else we could find in that sauce.
My recent trip back to Martha's Vineyard hit all the notes I love. Wicked good food from Atria, Slice of Life, Rosewater and Black Sheep, but our go-to was Beach Road (@BeachRoadMV, 79 Beach Rd., 508-693-8582, beachroadmv.com) mostly because of oysters and clams from their raw bar.
A dinner at Beach Road started with a dozen each of Honeysuckle and Chilmark oysters, littleneck clams and a couple of cocktails. Then we would round it out with a couple of their specials, small plates and entrèes. Aside from their outstanding customer service, my favorite dishes were spicy conch Bolognese, cucumber gazpacho with lobster, halibut collar with dashi, the smoked fish plate and some serious dessert!
Thank you, Maura and Art, Sylvia and Quinn, for making summer getaways that much more special. Here is to more sunsets, laughter, great food, drink and togetherness to come. I love you.
Happy eating and thanks for reading!
Kysha Harris is a food writer and editor, culinary producer, consultant and owner of SCHOP!, a personalized food service in NYC for more than 15 years. Follow her on Twitter and Instagram, @SCHOPgirl, on Facebook, /SCHOPnyc, and her blog, www.talkingSCHOP.wordpress.com. Questions? Comments? Requests? Feedback?  Invitations!  Email AmNewsFOOD at AmNewsFOOD@SCHOPnyc.com. Follow us on Instagram, Twitter and Facebook @NYAmNewsFOOD and tag us with #SoAmNewsFOOD with your food finds!