'The Unauthorized Psychoanalysis of Donald Trump'
JAMES C. MCINTOSH, M.D. | 8/24/2017, 2:23 p.m.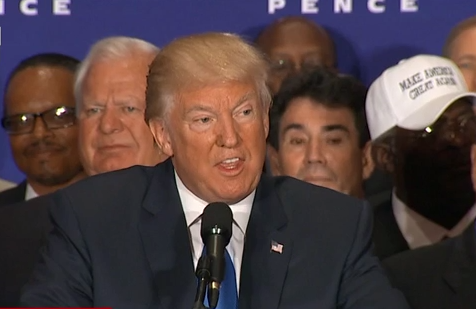 Free associating and fantasizing out loud
The Diagnostic and Statistical Manual number 5 of the American Psychiatric Association provides an interesting alternative to the popularly held notion that Donald Trump lies all the time. DSM-5 says that people with narcissistic personality disorder are often "preoccupied with fantasies of unlimited success, power, brilliance, beauty or ideal love." So Trump is not lying; he's just preoccupied and fantasizing aloud. Trump once fantasized aloud that "All of the women on [the show] 'The Apprentice' flirted with [him]," then hedged with a little psychobabble adding the words, "consciously or unconsciously."
One of Trump's more famous fantasies of ideal beauty, and perhaps perfect love, that he uttered innocently, publicly and guiltily on the TV talk show, "The View," went as follows: "I don't think Ivanka would do that [pose for Playboy], although she does have a very nice figure. I've said if Ivanka weren't my daughter, perhaps I'd be dating her."
Low crimes and misdemeanors
It was a fantasy so weird that it caused one of the hosts to ask him, "Who do you think you are: Woody Allen?" This question, even though it brought gales of laughter, was an astute question in that it provided insight and struck to the heart of the matter, especially when one allows oneself to free associate, as all good psychiatrists should do. DSM-5 says narcissists are also prone to exploitative relationships. Allen married his own stepdaughter. Allen and Trump are both associates of a convicted billionaire pedophile named Jeffrey Epstein. Epstein was named in a civil suit by a woman named Virginia Giuffre. She was recruited as a victim by Epstein's sex trafficking ring when she was 15 years old and working as a towel girl in Trump's Mar-a-Lago resort, where Epstein was a member. Eventually approximately 40 young women alleged they, too, were victimized. Epstein was allowed to cut a deal with then-U.S. Attorney Alexander Acosta, in which Epstein would plead guilty to solicitation of a minor for prostitution, and given a sentence that allowed him to be locked up in the county jail at night only and released completely in 13 months. He also had to pay settlements to more than 30 of the young women who also had been victimized. He is a billionaire. Acosta was criticized for signing off on this sweetheart deal for Epstein, who was described by Trump years earlier in an interview with New York magazine as follows: "He's a lot of fun to be with. It is even said that he likes beautiful women as much as I do, and many of them are on the younger side." Trump, who now fantasizes aloud that he is not friends with Epstein, tapped Acosta for secretary of labor. What would Trump have done for him if Acosta had helped someone who actually was his friend?
Trump himself was accused of rape by a woman called Katie Johnson in the media and Jane Doe in court documents. Johnson/Doe said that Trump and Epstein raped her back in 1994 when she was 13 years old. She claimed that Trump told her she resembled his daughter. That comment would make sense on a couple of levels because in 1994, Ivanka was also 13 years old. A judge ruled against this claimant, but her lawyers kept this case open, and it did not go away until a couple of days before the presidential election, when, inexplicably, the young lady withdrew her suit. Now many have said that the young woman's story is dubious at best, and some have questioned her withdrawing her claim so suddenly.
Looking at Donald from many sides, many sides
As Trump has advised after Charlottesville, things should be looked at from many sides. So from the back side, has Trump sued Katie Johnson? If not, why not? Trump and Trump-associated entities have sued others 1,900 times. When the Daily Mail published that Melania was a former call girl prostitute, Melania sued the paper for defamation and, to the surprise of many, won. Trump has an established record of being very punitive when people have sued him. Trump was sued by one of his nephews for allegedly inducing Trump's senile father, Fred Trump, to cut the nephew out of his will. In retaliation, Trump cut off the medical benefits to the nephew's son, who had been born with cerebral palsy. When the United States of America sued Trump and his father in the 1970s for racist renting practices, Trump hired Roy Cohn to countersue America. So, point of order: Mr. President, have you sued Katie Johnson? And if not, why not?
The unauthorized psychoanalysis of America
Narcissists feel special and entitled, and one month before the election, Trump's sense of being special, his sense of entitlement, his tendency to exploit relationships and his lack of empathy were all exposed on a single tape played publicly to all of America. Said Trump on that tape:
"I just start kissing them. It's like a magnet. Just kiss. I don't even wait. And when you're a star, they let you do it. You can do anything. Grab 'em by the pussy. You can do anything." That could have just as well been Thomas Jefferson describing the easy pickings [sic] for white presidents in the slave quarters. Yet America may have proved that it needs psychoanalysis more than Trump because America validated Trump's view of the world by electing him president after hearing it in plain language.
Three weeks before Trump was elected, the New Yorker ran an account of Trump's rape of another almost-first lady of the U.S.: his first wife, Ivana Trump. Ivana clearly did not deserve this type of treatment, even though, to use Trump's language, she was an immigrant with perhaps no skills likely to contribute to the economy of the United States.
But sometimes "id" hurts instead
Journalist Harry Hurt, armed with Ivana's sworn divorce deposition, alleged that in 1989 Trump, angered that a "scalp reduction" by a plastic surgeon recommended by Ivana was hurting him, yanked out a handful of Ivana's hair and then raped her. When he discovered her in the morning locked in a room crying, Trump, the man who would later argue in a presidential debate that his hands were not small, looked at Ivana and asked, "Does it hurt?" Trump has denied both the rape allegation and, perhaps more importantly, from his perspective, the small hands and scalp-reduction procedure.
Somehow, narcissism really does not describe everything that's wrong with Trump or America.
Next week, Part IV of Chapter 1 of the "Unauthorized Psychoanalysis of Donald J. Trump": "Donald T and Cluster B."
Dr. James McIntosh and activist Larry Hamm will go into what's wrong in more depth in a multimedia program entitled "The Unauthorized Psychoanalysis of Donald J. Trump and the Fight Against Fascism." Saturday Aug. 26, 2017 at 2 p.m. at CEMOTAP HQ, located at 13505 Rockaway Blvd., South Ozone Park, Queens, N.Y. Admission is free.