'The Unauthorized Psychoanalysis of Donald Trump'
JAMES C. MCINTOSH, M.D. | 8/24/2017, 2:23 p.m.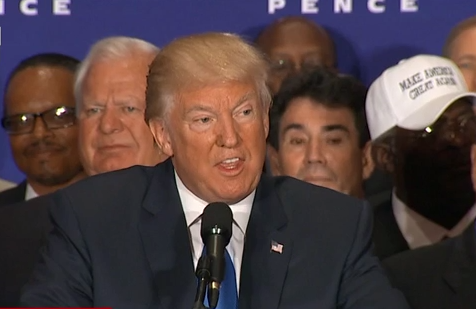 Free associating and fantasizing out loud
The Diagnostic and Statistical Manual number 5 of the American Psychiatric Association provides an interesting alternative to the popularly held notion that Donald Trump lies all the time. DSM-5 says that people with narcissistic personality disorder are often "preoccupied with fantasies of unlimited success, power, brilliance, beauty or ideal love." So Trump is not lying; he's just preoccupied and fantasizing aloud. Trump once fantasized aloud that "All of the women on [the show] 'The Apprentice' flirted with [him]," then hedged with a little psychobabble adding the words, "consciously or unconsciously."
One of Trump's more famous fantasies of ideal beauty, and perhaps perfect love, that he uttered innocently, publicly and guiltily on the TV talk show, "The View," went as follows: "I don't think Ivanka would do that [pose for Playboy], although she does have a very nice figure. I've said if Ivanka weren't my daughter, perhaps I'd be dating her."
Low crimes and misdemeanors
It was a fantasy so weird that it caused one of the hosts to ask him, "Who do you think you are: Woody Allen?" This question, even though it brought gales of laughter, was an astute question in that it provided insight and struck to the heart of the matter, especially when one allows oneself to free associate, as all good psychiatrists should do. DSM-5 says narcissists are also prone to exploitative relationships. Allen married his own stepdaughter. Allen and Trump are both associates of a convicted billionaire pedophile named Jeffrey Epstein. Epstein was named in a civil suit by a woman named Virginia Giuffre. She was recruited as a victim by Epstein's sex trafficking ring when she was 15 years old and working as a towel girl in Trump's Mar-a-Lago resort, where Epstein was a member. Eventually approximately 40 young women alleged they, too, were victimized. Epstein was allowed to cut a deal with then-U.S. Attorney Alexander Acosta, in which Epstein would plead guilty to solicitation of a minor for prostitution, and given a sentence that allowed him to be locked up in the county jail at night only and released completely in 13 months. He also had to pay settlements to more than 30 of the young women who also had been victimized. He is a billionaire. Acosta was criticized for signing off on this sweetheart deal for Epstein, who was described by Trump years earlier in an interview with New York magazine as follows: "He's a lot of fun to be with. It is even said that he likes beautiful women as much as I do, and many of them are on the younger side." Trump, who now fantasizes aloud that he is not friends with Epstein, tapped Acosta for secretary of labor. What would Trump have done for him if Acosta had helped someone who actually was his friend?
Trump himself was accused of rape by a woman called Katie Johnson in the media and Jane Doe in court documents. Johnson/Doe said that Trump and Epstein raped her back in 1994 when she was 13 years old. She claimed that Trump told her she resembled his daughter. That comment would make sense on a couple of levels because in 1994, Ivanka was also 13 years old. A judge ruled against this claimant, but her lawyers kept this case open, and it did not go away until a couple of days before the presidential election, when, inexplicably, the young lady withdrew her suit. Now many have said that the young woman's story is dubious at best, and some have questioned her withdrawing her claim so suddenly.