Dance Calendar September 2017
8/31/2017, 3:23 p.m.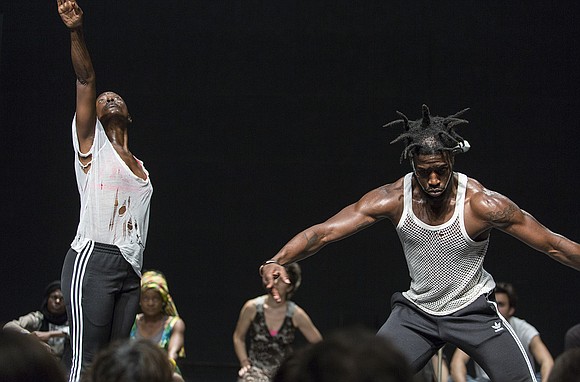 African contemporary choreographers/performers command this month's calendar. From the Democratic Republic of Congo, Faustin Linyekula begins with a two-week run (Sept. 9-24) at various Manhattan venues, Zimbabwe-born Nora Chipaumire will have two nights (Sept. 14-15) at FIAF and Rwandan-born Dorothée Munyaneza opens at Baryshnikov Arts Center Sept. 21.
Linyekula returns to New York as part of BRIDGING: An International Dialogue on Diversity and Inclusion in the Arts, and in association with the French Institute Alliance Française's annual Crossing the Line 2017 Festival, plus The Metropolitan Museum of Art, NYU Skirball, Dancing in the Streets, 651 Arts, BRIC, University Settlement, the Soul of Brooklyn Festival and the Third Avenue BID. Linyekula will premiere three works: the site-specific "Bantaba [new work]," generated by The Met's collection of art from the Kingdom of Kongo and the political landscapes and history of the DR Congo; with a group of dancers and actors, the U.S. premiere of "In Search of Dinozord" ("Sur les traces de Dinozord") "…a poetic, political fairy tale that begins, like all fairytales, with 'once upon a time…' as they explore the history of the Congo; and "Festival of Dreams," in which Linyekula/Studios Kabako (his Kinshasa-based space) brings the community together for two free performances, notes the release. Linyekula will be accompanied by South African dancer Moya Michael on "Bantaba [new work]" and "Festival of Dreams." For more information, visit www.crossingtheline.org.
Also a part of FIAF's annual Crossing the Line 2017 Festival, soloist Nora Chipaumire will premiere #PUNK, "… inspired by 1970s independent music, 'Americana,' and her own formative years in Zimbabwe in the '70s-'90s … #PUNK paints a riotous sonic and visual landscape with voice, dance, installation and performance. #PUNK is the first part of a triptych titled #PUNK 100% POP*NIGGA,"a live performance album that confronts and celebrates three sonic ideologies: punk, pop and rumba, explored through the radical artists Patti Smith, Grace Jones and Rit Nzele," according to the release.  For more information, visit www.crossingtheline.org.
Dorothée Munyaneza premieres "Unwanted" at the Baryshnikov Arts Center. After her New York debut in 2016, where at the Public Theatre's Under the Radar Festival, she premiered "Samedi Détente," unearthing childhood memories before fleeing genocide-ridden Rwanda at age 12. In "Unwanted," "…she continues her examination of the generational wound of genocide and, specifically, the physical and mental repercussions of rape used as an instrument of war." Munyaneza wrote, "I want to share their testimonies, I want to sing their sorrows and hopes, I want to dance their lives, their scars, their marks, for they leave some behind. We cannot remain indifferent." For more information, visit www.bacnyc.org.
ALSO THIS MONTH
Sept. 6-9—The annual Dance NOW Festival known for its "…adventurous short-takes format," according to the release, returns with yet another packed lineup featuring 40 emerging and established choreographers. Included are Gus Solomon Jr., binbinFactory/Satoshi Haga & Rie Fukuzawa, Lawrence Goldhuber/BIGMANARTS, Raja Feather Kelly/The Feath3r Theory, Cleo Mack Dance Project, TAKE Dance, Christal Brown, Shaina & Brian/BS Movement, The Dash Ensemble, Jamal Jackson Dance Company, Nicole Wolcott, Gibney Dance Company, Kyle Marshall Choreography and so many more. For more information, visit