Francis stages huge upset at World Championships
Lois Elfman | 8/31/2017, 11:50 a.m.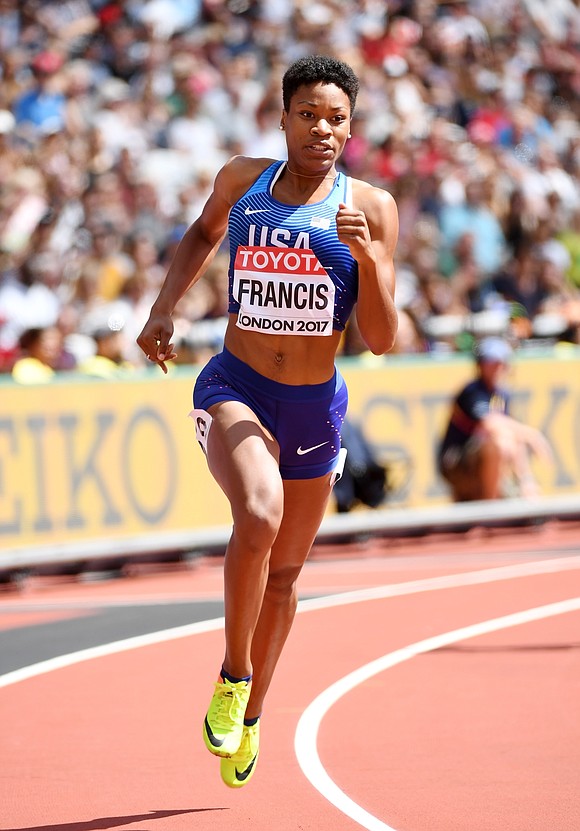 Although Queens native Phyllis Francis is an Olympic gold medalist (4x400 relay in Rio), she headed into the women's 400-meter final at the IAAF World Championships in London earlier this month decidedly in the shadow of U.S. teammate Allyson Felix and Olympic champion Shaunae Miller-Uibo from the Bahamas. With a surge in the final 50 meters, Francis passed both women to claim gold.
"It felt really good," said Francis. "My coach has been telling me, 'You've got it. Just focus on you and believe in yourself. Put in the work; you can definitely do it.' I went for it. Coach always tells me I have a really strong finish. The last 50 meters, I just threw it all on the line and I ended up winning. It was pretty exciting."
She added "My goal was to medal." "Which medal I would get depended on how I executed the race. When I was warming up, I felt really ready and I just went for it."
It all felt a bit surreal. She followed up the individual gold with a gold medal in the 4x400 relay, for which she ran the anchor leg. Earlier this year, Francis also won gold in the 4x400 relay at the World Relay Championships.
Francis, 25, changed coaches before the Rio Olympics, leaving her alma mater, University of Oregon, to train with Texas A&M assistant coach Vince Anderson. After her success in Rio, he continued to build up her confidence and mental game and hone her technique.
"Communication is definitely there; we talk about everything," said Francis, a graduate of Catherine McAuley High School in Brooklyn. "[Coach Anderson] is well-known for his sprinting technique. He's able to communicate it in a way that I can grasp it, and be able to execute it on the track."
With a bit of newfound celebrity, Francis will return to New York in early September and check out some of the events of Fashion Week. Three years into her pro track career, Francis' confidence is strong and her ambition is in high gear, but she stays humble. The desire to improve propels her.
"I'm all about progression," said Francis. "After winning the 400, I thought, 'I actually did it. I did what I've been dreaming of and training for.' It's all starting to come together. It's a great feeling."