Governor Cuomo: It's time to protect immigrant New Yorkers
AFUA ATTAH-MENSAH | 8/31/2017, 11:12 a.m.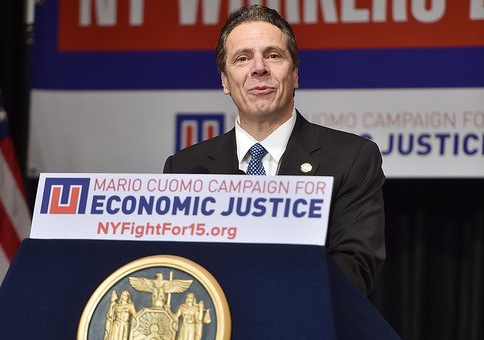 President Donald Trump continued to boldly endorse police brutality and state violence last week with the pardoning of former Sheriff Joe Arpaio, the architect of openly racist profiling practices and unlawful detentions without charges in Maricopa County, Ariz. Much like the notorious Bull Conner of 1960s Alabama, Arpaio intentionally violated court orders to stop his unconstitutional immigration patrols. He was found guilty of criminal contempt and faces six months in prison for violating court orders to stop his unconstitutional immigration patrols.
During an appearance in Phoenix, just days before he issued the presidential pardon, Trump asked his supporters, "Do the people in this room like Sheriff Joe?" and added, "I'll make a prediction: I think he's going to be just fine."
Earlier this month during a speech given to law-enforcement officers in Brentwood, Long Island, Trump made headlines with a similar line of inflammatory rhetoric, urging officers not to "be too nice" to "thugs, like when you guys put somebody in the car and you're protecting their heads. You know the way you put your hand over? You can take the hand away OK?" To joke about police brutality and pardon an officer that violated the Constitution and ignored the judicial system gives officers full permission to strip away the humanity of people in this nation. It justifies the act of playing judge, juror and, sometimes, executioner, signaling that police officers are not expected to obey the laws that they enforce. It is a nod to a centuries-long practice of state-inflicted violence—a problem that has claimed nearly 1,000 lives this year alone.
Since the early days of his candidacy, Trump has claimed that immigrants are criminals and that those who engage in violence should be deported. These sentiments garnered support for Trump and incited rage toward all immigrants, the overwhelming majority of whom have no history of violence. He has repeatedly gone on record to say that immigrants pose the greatest threat to America's public safety, even though immigrants are incarcerated for crimes at a significantly lower rate than American citizens. Trump's ideal immigration policy is to block, ban and criminalize virtually all immigrants. He has threatened to shut down the government if he doesn't receive billions of dollars for a wall along the U.S.-Mexico border.
In the resistance to Trump's racist and xenophobic agenda, many states and cities have taken a verbal stand to serve as sanctuary cities, but many localities have fallen short. In Massachusetts, for instance, Governor Charlie Baker has openly expressed his opposition to extreme immigration policies. However, after a recent decision by the Massachusetts Supreme Court to block certain new Immigrations and Customs Enforcement detentions, Baker expressed his opposition to the decision and introduced a bill that will allow state law enforcement officials to detain undocumented immigrants without the use of a warrant.
In New York, despite Governor Andrew Cuomo's verbal support for sanctuary, the reality is that areas just outside of city limits are complying with ICE and not honoring sanctuary. In Westchester, 19-year-old Diego Puma Macancela was detained hours before his senior prom. Macancela came to the U.S. with his mother, fleeing gang violence in Ecuador. Despite having a number of supporters such as Congresswoman Nita Lowey, Macancela was deported back to Ecuador, without a chance to appeal, just weeks before graduating high school. "While Diego's case is of the upmost importance to me," wrote Congresswoman Lowey, "his removal proceedings speak to a larger issue emerging in our country. Increased enforcement action of nonviolent offenders, especially targeted at children like Diego, have a chilling effect on the critical relationships between immigrant communities and law enforcement which will make us less safe."