'Leap!' into the mind of a tiny dancer with heart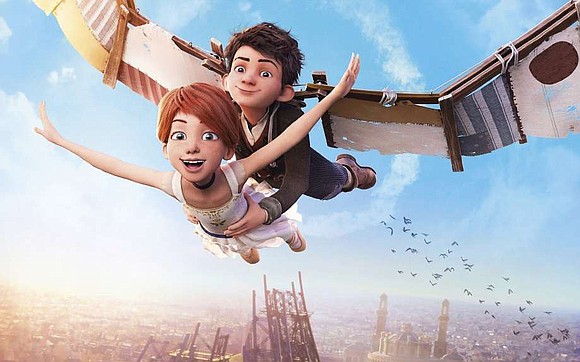 Dreams of being a famous ballet dancer dressed in bright pink tutus and a life filled with dazzling pirouettes, all viewed under the spotlights is what makes this sweet new animated story "Leap!" such a charming cinematic family viewing experience. Best described as "elegant," this story is produced by a French-Canadian animation company and brings to life the dreams of Félicie, a spirited and impoverished orphan who heads to Paris to realize her ambition of joining the ballet tells the story simply and with
grace and humor.
There is an endearing charm about a little girl's dream of journeying in the City of Lights with the sole goal of becoming a prima ballerina, and following that dream will most likely hit a cord for those romantic dreamers among us.
Opening in the U.S. Aug 25, the film, which has already opened in key territories in Montréal and according to the press notes the family film, will undergo a minor makeover for its stateside release—postponed several times by the Weinstein Company to add key American actors to the voice cast. Nat Wolff replaces Dane DeHaan.
Young Félicie yearns to polish her amateur footwork at a ballet academy, and the dream of Paris fills her heart. Along with her best pal, Victor, an aviation-obsessed soul who longs to become an inventor. The journey in motion with Paris with the goal, Félicie and Victor each stumble into a mix of usual hardships and fairy-tale good fortune. He finds grunt work at the design studio of engineer Gustave Eiffel, and she fakes her way into an intensely competitive class at the Paris Opera, where more highly trained dancers are auditioning for the lead in a new production of "The Nutcracker" by Simon Cowell-esque maestro Merante (Terence Scammell). Will she survive? Why do
ballerina's toes bleed?
"Leap!" is an amazing showcase for art director Florent Masurel and Montreal-based animation studio L'Atelier and the result is extraordinary—even virtuoso—giving life to the shifting shades of golden daylight. The ballet sequences are a bit disappointing and the music is somewhat uneven with traditional scoring by Klaus Badelt with lyrics that do —actually—convey Félicie's artistic inspiration.
"Leap!" is directed by Eric Summer and Eric Warin. The screenplay is by Summer, Carol Noble, Laurent Zeitoun, based on a story by Summer, Zeitoun. The cast incudes Elle Fanning, Dane DeHaan, Carly Rae Jepsen, Maddie Ziegler, Terence Scammel, Tamir Kapelian, Julie Khaner, Joe Sheridan, Elena Dunkleman, Soshana Sperling, Jamie Watson and Bronwen Mantel.