Liberty win eighth in a row
LOIS ELFMAN | 8/31/2017, 11:53 a.m.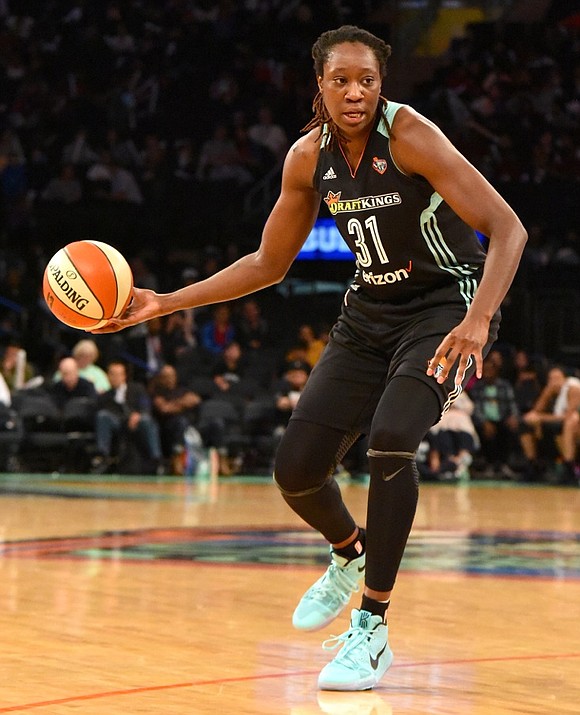 With a commanding 92-62 win over the Chicago Sky on Sunday afternoon, the New York Liberty not only won its eighth consecutive game, but also earned a bye for the first round of the playoffs. With the win the Liberty achieved its third season in a row with 20 or more wins, a first in franchise history.
Tina Charles led the Liberty in scoring with 22 points. Three other players were in double figures: Bria Hartley and Epiphanny Prince with 11 each and Kiah Stokes with 10 as well as 10 rebounds. Every active member of the team saw significant minutes and contributed with points, rebounds, assists and steals.
"It shows how good our team can be," said Stokes. "We knew we could clinch the fourth seed with this win and that's what we did."
"Collectively as a bench, getting in and getting in the groove because we know they're going to need us in the playoffs," said Sugar Rodgers, who struggled a bit offensively, but finished with seven points, seven rebounds, six assists and one steal.
For rookie guard Lindsay Allen, watching the Liberty play together as a collective unit has helped educate her on what being a professional athlete entails. "For these past eight games, we've been having more fun and enjoying it more," said Allen, adding, "It's helping me for the future, just figuring out how each professional goes about their job and how to be professional on and off the court."
The team's star, Tina Charles, enjoyed watching nearly half the game from the bench as the reserves stepped up in a big way. She's not focused on winning streaks, just on playing team basketball.
"Injuries can happen, so they have to be just as confident and ready all the time," said Charles. "You're talking to somebody who went 79–0 (at UConn), so I know all about streaks. Three of us do [Stokes and Hartley are also Huskies alums], so we don't get caught up in that. Stay in moment, try to get better each possession, every game and that's what we're trying to do."
The Liberty plays its final, regular-season home game tomorrow against the San Antonio Stars and then finish regular season on the road in Dallas on Sunday. The team opens second-round playoff action at Madison Square Garden on Sept. 10.