Talking SCHOP! Getting open at the U.S. Open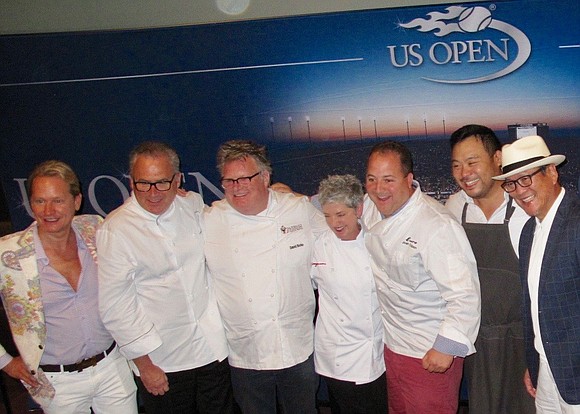 Missing the annual U.S. Open Food Tasting Preview last year was a bummer! I had to settle for a delicious Fuku fried chicken sandwich from concessions and a couple of the signature Honey Deuce Grey Goose cocktails to make up for it. Fast forward to last week, and I was jumping off the No. 7 train with excitement.
Walking into the village of the Open, you cannot miss all of the construction going on. Most notably Louis Armstrong Stadium is being overhauled with a temporary stadium adjacent to it.
With a friend in tow, I entered the Arthur Ashe Stadium building to one of restaurants where the news conference was in progress. On the dais were the U.S. Open Culinary All-Stars David Chang, Masaharu Morimoto, David Burke, Ed Brown and the new guy, Josh Capon of NYC's Lure Fishbar. Although these chefs are a riot on their own, the comedy level was gilded by the fashionably funny Carson Kressley.
After the news conference and pictures, we were herded into Aces next door, to see all of the gorgeously plated foods and of course eat, eat, drink and eat. There were plates from all of the new concessions, restaurants and eateries in the village.
Some of the new concessions include Poke Yachty from the great food truck Korilla BBQ, serving signature poke bowls; Joju, bringing their Queen-born Vietnamese sandwiches; Melt Shop, melting the hearts of grilled cheese lovers; and Dean & DeLuca "Official Fine Food Purveyor of the U.S. Open," serving gourmet sandwiches and lighter fare.
Once I got all of my pictures and my Honey Deuce cocktail, I settled in to eat. The first victory was getting sushi freshly prepared by chef Morimoto, the result of his demo with one of the Bryan brothers. Tears of joy.
The next highlight was the hesitant creation of chef David Chang and Fuku, the 163 Burger. Chang didn't want to step on the toes of his fellow burger-forward chef, but two Pat Lafrieda beef patties topped with cheese, lettuce and special sauce in Hot Bread Kitchen Bing bread was not only dynamite but also it's still talking to me—beckoning me back.
The last of the "must mentions" was from the brilliant chef Wylie Dufresne of the newly opened Du's Donuts and Coffee. Vanilla bean ice cream sandwiched between a strawberry and blueberry donut coated with strawberry and blueberry crumble. Sold at Fuku concessions, this thing will take you back in time and shoot you into the future in the same moment.
There is so much more food and fun to discover at the 2017 U.S. Open. I hope to see you there!
Happy eating and thanks for reading!
Kysha Harris is a food writer and editor, culinary producer, consultant and owner of SCHOP!, a personalized food service in NYC for more than 15 years. Follow her on Twitter and Instagram, @SCHOPgirl, on Facebook, /SCHOPnyc, and her blog, www.talkingSCHOP.wordpress.com. Questions? Comments? Requests? Feedback?  Invitations!  Email AmNewsFOOD at AmNewsFOOD@SCHOPnyc.com. Follow us on Instagram, Twitter and Facebook @NYAmNewsFOOD and tag us with #SoAmNewsFOOD with your food finds!