Black activists take US ethnic cleansing to UN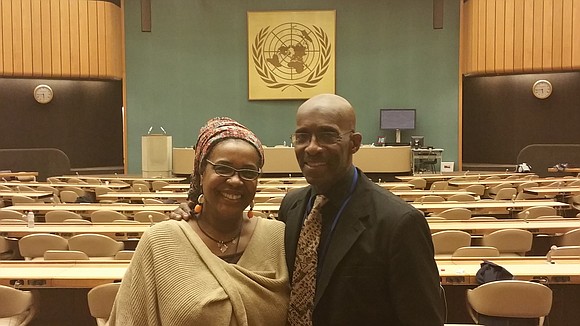 As principal stakeholders in the International Decade of People of African Descent (2015-2024), the December 12th Movement International Secretariat and the International Association against Torture, both U.N. non-governmental organizations, traveled to Geneva, Switzerland to the U.N. Regional Meeting of Europe, Central Asia and North America (Nov. 23-24) to raise the issue of ethnic cleansing in the U.S.
International human rights attorney Roger Wareham explained during their intervention, "People of African Descent in the U.S. are victims of ethnic cleansing. In one sense this is nothing new, but the IDPAD demands a more precise definition and recognition of the current escalating criminal assault on both Black life itself, as well as on the quality of Black life."
Wareham continued, "The popular and intentionally benign expression for the forced displacement of African people around the United States is 'gentrification.' Gentrification disguises the criminal nature of this involuntary displacement of masses of African people from the communities in which they have lived for generations to be replaced by new, largely white, occupants. Varying reasons are floated for this dislocation, e.g., the free play of market forces, or the natural and inevitable consequences of an expanding metropolis.
"But we maintain that it is not simply happenstance that governs this process, but a systemic policy of white supremacy grounded in the reality that the 21st century U.S. economy no longer has a need for surplus Black labor. African peoples' kidnapping to and continued existence in the Western Hemisphere has been based on our ability to create profit for others. In the U.S. that is no longer the case, except for that profit generated by our slave labor in the prisons. In addition, what we find in cities across the United States is not just the involuntary displacement of Black people but a systemic lack of monitoring, accounting or concern for where we go. The physical displacement is accomplished in varied ways: landlords refusing to provide heat, hot water, rodent control; 'affordable' housing being built at prices which are unaffordable for working class Black people; escalation of rents; police terrorization of our communities;  rules prohibiting people convicted of a felony from living in public housing upon their release from prison; taking advantage of natural disaster— e.g., the aftermath of Hurricane Katrina in 2005 changed the racial demographic of what had been a predominantly Black New Orleans, La."
Wareham concluded, "Finally, this displacement is not simply a housing issue. The erasure of Black people is seen in many areas— e.g., health, education, criminal justice, employment, violation of our right to self-determination, murder by police, the all-sided attack on our culture."
Wareham demanded that the regional meeting analyze the current policies of the U.S. toward its Black population in its historical context. "Forced displacement of its Black population is not a recent phenomenon in US history," he said. "Black people faced organized actions to remove us following the Civil War, during the Reconstruction and Jim Crow eras right through today. Through its 'red-lining' policies, the banking industry was an able facilitator of these crimes."
Wareham was joined in his demand for the regional conference to recognize the ethnic cleansing of Black people in the U.S. by Sister Iman Drammeh of the Drammeh Institute and Brother Onaje Mu'id of the International Human Rights Association of American Minorities. The presentation stimulated a discussion among the regional attendees, who, in detailing the attacks on Black folks in their countries, noted the similarities of our situations and said that they would take the concept of ethnic cleansing back to their communities.
For more information, visit D12M.com.