Donald Faison's TV Doctors of America Campaign 
OLAYEMI ODESANYA | 12/7/2017, 6:07 p.m.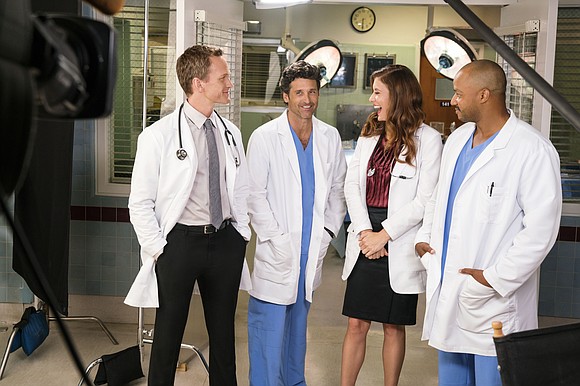 "We want to promote healthy living and choices," comedian and actor Donald Faison told the Amsterdam News. "It is important for people to get regular check-ups with their doctors and physicians."
Faison has teamed up with Patrick Dempsey, Kate Walsh and Neil Patrick Harris to be a part of the TV Doctors of America Campaign that was launched by the Cigna Corporation. Cigna Corporation promotes well-being and having awareness of self-analysis. "Just knowing certain information like your BMI, biometric numbers of blood sugar is vital information," said Faison. "It's a shame how so many people are unaware about themselves. This is why I wanted to join an organization like Cigna Corporation, a program that emphasizes
the importance of seeking health services."  
In 2017, the Cigna Corporation hosted more than 100 events in 65 cities as part of its Health Improved Tour. Attendees were able to get free biometric screenings of their cholesterol levels, blood pressure and much more. The events also provided counseling, dental services, pharmacy services and psychological therapy.
"One thing that I can say about my co-workers is that we share a passion to make our community a better place," said Faison. "We want to better our community and bring awareness. They are such a delight to be around, and we always have fun when we are around each other. I was originally fans of my co-stars, so being  able to work with them is truly a dream come true!"
Faison was born and raised in Harlem. His parents were part of the National Black Theater in Harlem, which was established in 1968 to encourage African-Americans to pursue  careers in performing arts.
Faison first appeared on national television at the age of 17. His had his debut in 1991 in a Folgers Coffee commercial. He has been featured in TV shows and movies. He is well-known for his roles  in "Sister, Sister," "Sabrina, the Teenage Witch," "Scrubs" and "Clueless."
"I find  it interesting to be a television actor," said Faison. "It takes a lot of work and dedication for a  person to pull off another person's persona and behavior. Especially for my current project the TV Doctors of America Campaign. Our main goal is to educate and entertain our audience about regulating their visits to the doctors and to be informed about the different health services their doctor's office provides."
He concluded, "But what makes us different from other health-related  campaigns is that we are doing it through comedy. We want our audience to learn for our silly scenarios and relatable characters."  
For more information, please go http://www.cigna.com/.