Gov. Cuomo announces approval of Smart Schools Investment Plans
12/7/2017, 4:55 p.m.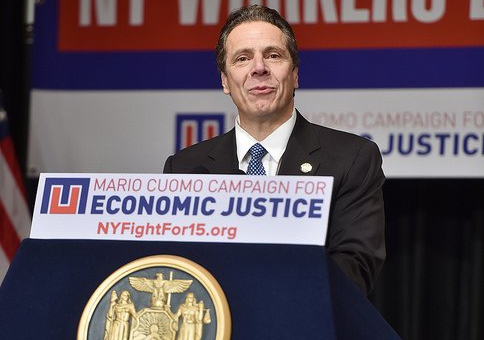 Gov. Andrew M. Cuomo has announced the approval of 88 Smart Schools Investment Plans aimed at reimagining teaching and learning for the 21st century. The approved plans, totaling $75.6 million, are part of the $2 billion Smart Schools Bond Act, a sweeping education technology initiative first proposed by the governor and overwhelmingly approved by voters.
The investments will modernize classrooms across New York and equip students with the skills they need to thrive in the global economy.  

"These vital investments are playing a critical role in expanding educational opportunity, helping schools modernize outdated classrooms and giving students access to state-of-the-art technology to learn and grow," Cuomo said. "This funding equips students across New York with the skills and technology they need to succeed in the 21st century economy."

The Smart Schools Review Board met Monday for the seventh time to consider investment plans submitted by school districts and special education schools. The board consists of the director of the budget, the chancellor of the State University of New York and the commissioner of the State Education Department. 

The plans were submitted by 80 school districts and seven special education schools. Projects include $30 million for classroom technology purchases, $27.4 million for school connectivity projects, $17.5 million for high-tech security projects and approximately $745,000 for prekindergarten classroom construction. In 2014, Cuomo called for New York State to invest $2 billion in its schools through a Smart Schools Bond Act. New Yorkers agreed, and the voters authorized the Smart Schools Bond Act that November.  

After the proposal of the Bond Act, Cuomo established the Smart Schools Commission to determine how schools can most effectively invest the bond funds. This advisory commission produced a final report recommending a focus on expanding robust broadband and wireless connectivity and utilizing transformative technologies. The plans approved by the Smart Schools Review Board reflect many of the best practices identified by the commission.   


State Budget Director Robert F. Mujica said, "School districts are using these funds to reimagine their classrooms for the next generation, optimizing their investment and driving student achievement."
State Education Commissioner MaryEllen Elia said, "It's sometimes hard to imagine just how quickly and radically technology is changing our lives. More than ever, our students need an education that prepares them to use and master the new technologies that will solve the world's ever-more complex problems. The funding that's available to school districts through the Smart Schools Bond Act will help give teachers the tools they need to prepare their students for success in the world that awaits them after graduation."
SUNY Chancellor Kristina M. Johnson said, "As education prepares students for an increasingly global society, our classrooms need to keep pace with the advanced technologies we have come to expect in our daily lives. This latest round of Smart Schools investments will provide schools, teachers, administrators and students with modern facilities and connectivity to share the knowledge necessary to thrive in college and the workforce. I want to thank Governor Cuomo for his commitment to our schools."