Timothy Dark speaks on new album, creating music in NYC
JORDANNAH ELIZABETH | 12/7/2017, 5:10 p.m.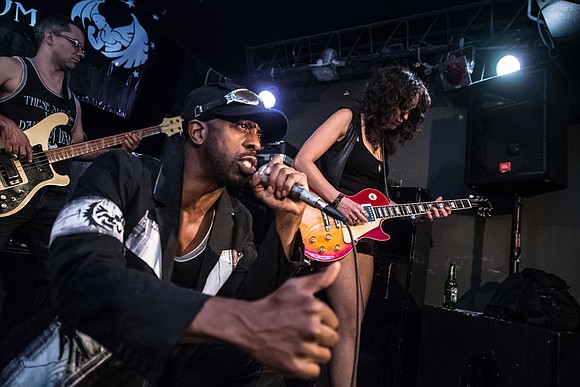 The emerging NYC-based hip-hop artist Timothy Dark has just released a new album, "The Last Days of the Dark." His album is a pastiche of different genres, even finding inspiration from '60s psychedelic rock. His rock influences manifest while he performs with a live band backing up his hip-hop lyrics. His work is eclectic and introspective, and he shares artistic commentary on existential issues such as experiencing life and learning from our experiences in earnest to find personal motivation and appreciation for life. He also released a music video in October 2017 entitled "Unpatriotic" as a slightly dystopian and honest expression of his anger toward the new presidential administration.
Dark took the time to speak with the Amsterdam News to express his personal inspiration and his experiences as an up-and-coming artist in NYC in today's tumultuous climate.
AmNews: Was your new track, "Don't it Feel Good" ("Comfortably Numb") inspired by Pink Floyd?
Dark: Yes, most definitely. There was a time when the only thing I was listening to was "The Wall" album.  I loved every track on the album, but there was something special about the song "Comfortably Numb." Every time I listened to the track, I would just sit there, hypnotized by the lyrics, the guitar, the strings, the spacey sounds and the eerie vocals.  It became a sort of daily therapy. Years later, while working on "The Last Days of Dark," the title "Comfortably Numb" came to me with new meaning.  I looked at the state of the world and realized that so many people were in the position to say something but didn't. So many artists were comfortable with having fame, but had no real meaning behind what they were selling to people. So my version of the song is a tribute to the brilliance of Waters and Gilmour, as well as a reminder that so many of us go through our lives just doing our daily nine-to-five routine, only worrying about the issues that affect us—blind and unconcerned about what's happening to others.
AmNews: What is the inspiration behind your album, "The Last Days Of Dark?"
Dark: "The Last Days of Dark" is basically a directive to live each day like it's your last, and bask in each and every experience. These are the last days for everyone on the planet. People might think this sounds kind of harsh, but I feel like every day after a baby is born is one of his or her last days. You can look at the glass as half full all you want, but sometimes, the half empty glass is the thing that truly motivates you. It's the thing that drives you to enjoy and appreciate every minute of this wonderful life because, as far as we know, we only come down this road one time. "The Last Days of Dark" is my way of sharing those days with you.
AmNews: What are your musical influences?
Dark: There are so many artists that have influenced me and taught me over the years—Billy Joel, Michael Jackson, Madonna, Kool G. Rap, Gang Starr, Big Pun, A Tribe Called Quest, Slick Rick, Eminem, Metallica and Phil Collins, to name a few. But one of my primary musical influences was Public Enemy. Their music was always direct. It had no fear and pulled no punches. Chuck D tackled the issues that were affecting people in this country, the majority of which pertained to African-Americans. Every one of their songs was a lesson and every album was a semester. PE taught me to focus on and write about what you think is wrong and speak out, no matter if you think it's going to sell records or not. They taught me that music must be used as a teaching tool as well as a healing tool. There are so many people that feel lost and have no music to turn to for therapy and no little voice to keep them on track. Right now there are very few leaders. Right now there are very few prophets. Right now there are very few musical beacons to guide the righteous as they fight the good fight. Groups like Public Enemy taught me how to be that beacon.