Timothy Dark speaks on new album, creating music in NYC
JORDANNAH ELIZABETH | 12/7/2017, 5:10 p.m.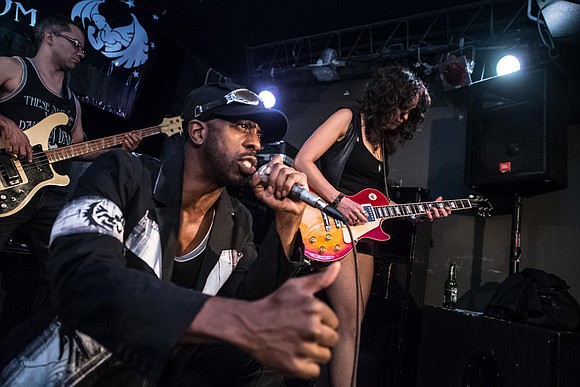 AmNews: What's the state of the independent music scene in NYC? Has it been easy to perform in the city?
Dark: The independent music scene in NYC is in flux. As gentrification creeps in, more and more music venues begin to close. When this happens the music scene just migrates to other places. Manhattan was where most of the popular venues were located, but that's changing fast. Brooklyn seems to be holding on pretty well and the Staten Island scene reminds me of the East Village in the '90s, where there's this wonderful underground movement of poets, songwriters and visual artists. I've been blessed to have made a lot of good musician friends over the years. We keep each other abreast of what's going on. Being NYC born and bred, I'll always find a place to play or a scene to be a part of. If I can't I'll create my own.
AmNews: Have things changed in the city since the election, and if so, has the social and political change affected your art?
Dark: Things have changed in the city since the election, but I feel like they have changed for the better. New Yorkers for the most part are proud to live in a "melting pot" city.  We love to say we live in a place where all are welcome, no matter your religion, skin complexion or sexual orientation. I was born and raised here, so my music reflects this and rejects the negative social and political changes that are happening now. This way of being led me to record songs like the "The Future" and "Unpatriotic," and create music videos to accompany them.
The end goal is to combine them with a third video to make a short film, showing the country as a brainwashed dystopia with severe martial law overtones. I want you to feel the way I feel both audibly and visually. What's going on around me has always been fuel for my art, and right now I'm definitely running on a full tank.
AmNews: What are your goals for your music?
Dark: My No. 1 goal is to play as many shows as possible with my band, The Indestructible Characters. I've managed to book New York shows through the middle of 2018. The plan is to hit the West Coast by the end of it. All my players [Lisa Bianco, Carl Gibson, Stephanie Linn, Correy Thornton James Rushin and Dan Garmon] work so hard. This is the tightest we have ever been, I want the world to hear us and the message that we are bringing.
I also want to do a lot more performances for charities and social justice organizations, like the ACLU. The times we are living in require us to look out and support each other when our leaders won't do it. I've been doing this for a long time, longer than many of today's mainstream artists. I've definitely paid my dues, now it's just a matter of making all this knowledge work for me. I want to use all I have learned to promote positive changes and eradicate racism, using thought-provoking artistry.