An undaunted civil and human rights advocate, Rep. Charles Diggs Jr.
Herb Boyd | 12/7/2017, 5:03 p.m.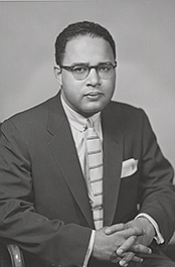 Many African-American freedom fighters, especially those dedicated to the liberation of Africa from European colonialism, recalled Diggs' unwavering support. There's a photo of him speaking at an African Liberation Day ceremony in Washington, D.C., garbed in a dashiki. Trans Africa, an organization devoted to the fight against oppression in Africa, was founded in Diggs' office.
Among his achievements were his action on lowering the voting age to 18, reducing the rampant joblessness, particularly among people of color, and joining other African-American representatives in the creation of the Congressional Black Caucus, of which he was the first chair and where Conyers remains the only founding member still in office. It was from this bully pulpit that he and other members assailed the Nixon and Ford administrations for being negligent on the issue of poverty and racial discrimination. For such outspoken criticism of President Nixon, Diggs was a bold-face name on the president's "enemies" list.
We may never know the extent to which Diggs' opposition to the Eisenhower, Nixon and Ford administrations played in the later charges against him, including the scandal that embroiled him in 1978 when he was convicted of mail fraud and filing false payroll forms. The scandal was similar to one that marred his father's career and possibly led to his suicide. Despite the conviction, Diggs won re-election but he was censured by Congress and forced to resign in 1980.
Diggs served 14 months in prison and upon release retired from politics. "I considered myself a political prisoner during my incarceration," Diggs later told reporters. "I was a victim of political and racist forces. I will go to my grave continuing to profess my innocence."
He died of a stroke at Greater Southeast Community Hospital in Washington, D.C., Aug. 24, 1998, and is buried at Detroit Memorial Park in Warren, Mich.